Girls Basketball Has Success In Regular Season
Ranked in MaxPreps' top 25 teams in Missouri, the girls basketball team has won 13 of their 17 games.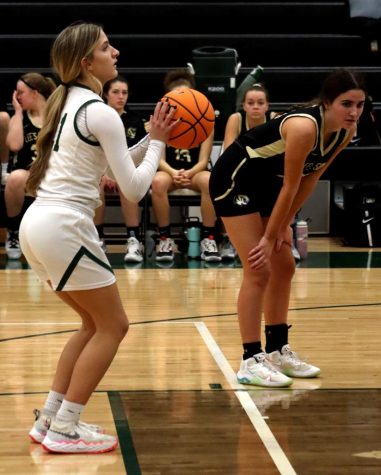 Varsity beat Oak Park High School Jan. 31 and won with a score of 67-30. Senior Olivia Reynolds said she felt great about the win.
"It's always good to beat an in-district school," Reynolds said. "We knew we had it, and it's a really good feeling when you're up 30."
The team had also beat North Kansas City High School Feb. 7 and won with a score of 58-18.
"We truly look for the best opportunity versus something that has to be my shot," senior MaryPaige Miller said. "Our girls do a really good job at trying to find the right shot at the right time."
Time and preparation goes into each game. Head girls basketball coach Michael Bennett said he felt proud of the team and said the main goal is for the athletes to be ready and successful in each game.
"It's putting a lot of time watching film, prepping on the court and making sure everything is clean and really ready to go for that game in front of us," Bennett said.
The team said chemistry and close bonds factored into their continued success.
"I feel like we have a lot more chemistry on the court," senior Elanna Aaron said. "It's really nice to have a team full of sisters."
Leave a Comment