Running Into The Record Books
Sophomore Breaks 3200 Meter Record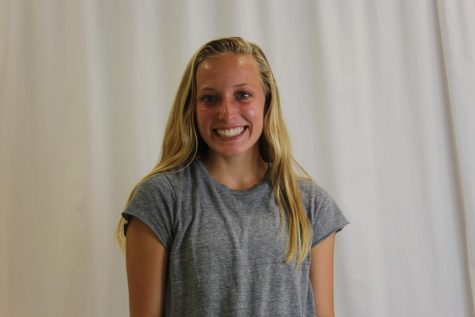 A 12thplace finish at cross country state this fall didn't satisfy sophomore Alex Hamre. So, on April 19, she broke the 3200-meter school record at Rockhurst.
Hamre said she had immediately known she had broken the record, because near the end of the race, coach George Adair was screaming encouragement from the side.
"Before that race, I didn't usually give her splits but that race I did. She stayed on pace the whole race and when she got to the last lap of the race, I knew she was going to break the record," said Adair.
She said she was in shock and tears because she didn't know she could do that.
"When I crossed the finish line, I was in shock, and I went to my parents and gave them each a hug," said Hamre.
Breaking the record required a lot of dedication and work, Hamre said.
She said both coach Todd Warner and Adair have made huge contributions toward her success by correlating the workouts to strengths.
"They also are always there for me so I can ask them questions about how I can achieve my goals," said Hamre.
She said, her biggest thing that allowed her success is a good solid week of training, and on race day, she stayed focused and tried to stay on her meet day routine.
Hamre said her biggest obstacles throughout this season has been knowing how to manage all her activities. Hamre went straight from track practice to lacrosse and still had to get her homework and studying done.
"It's exhausting, but I love what I do and wouldn't change it for anything," said Hamre.
Hamre said her goals going into postseason are to race as well as she can, have good racing strategies, and ultimately, make it to state.