Fall Sports Team's Traditions
Teams Bond to Prepare for the Season
Fall sports are in full swing, and so is the team bonding. Each group has different traditions that help them create a family-like bond.
Before the Friday night lights, there is a lot of time with the team. The football team has a pregame meal after school where some of their parents make and serve them food. During the meal, the players stand up and talk about whether it is their first time participating in the pregame meal.
"If it's their first pre-game meal, you have to make the announcement, and the whole team goes 'OH YEAH!'" said senior captain Tyler Miller.
Also, the seniors bond through dinners at people's houses the nights before games.
"After Thursday practices, we do senior talks. So, every week we have a few selected seniors that get up in front of the team, pay respects to two underclassmen, two classmates, one alumni and a person of influence," said senior captain Tyler Miller.
For the cross country team, the boys go to Olive Garden every Friday before a race and then go to hang out at someone's house. The girls team either goes to Olive Garden as well or they will eat dinner and spend time together at each other's houses.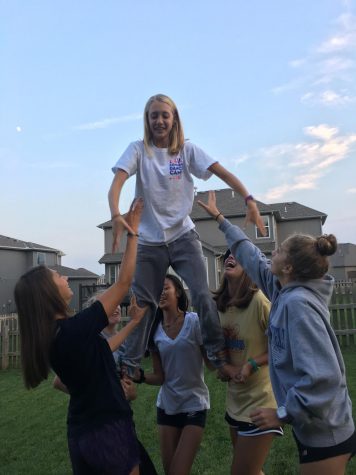 "We've done Olive Garden for the past four years, and it's mostly a way for us guys to connect and talk and enjoy each other while enjoying a good meal while carb loading for a race the next morning," said senior captain Tyler Rodvelt.
The volleyball girls' pregame consists of loud music in the locker rooms as well as inspiration and prayers in coach Julia Weber's room.
"We chill in the locker room and blare music, and then we go to Weber's class," said varsity sophomore Meghan McElwee. She said someone then shares an inspirational message.
The softball team does team bonding each year. This year, the team bonding was at Main Event.
"Late at night, we go to each senior's house and TP their yards. We then wake them up at 5 a.m. and take them out to breakfast," said senior Alana Vawter.
Charlie Duffy, boys swim team captain, also keeps traditions with his team by going out to eat at Longboards, Chipotle or Kate's Kitchen.
"On Fridays at the school, the whole team will wear nice clothes if we have a meet on the upcoming Saturday," said Duffy.
The cheer team has the tradition of going to the back of the bus on the way to home games and playing really loud music. They also chant, "Don't mess with the best."
The tennis girls have a similar tradition where at tournaments they will listen to pump up songs from coach Morgan Bahn and eat at Chick-fil-a or Chipotle when going to schools that are far away.
The Emeralds mark the field or the floor before they perform. They also do their hair and makeup together and have also started doing pregame meals.
"Before we dance, we get in a tight circle with our right foot pointed. During the circle, we talk about what we need to do to make our performance flawless. The seniors' words of advice really get us pumped and confident we will do our best. A quick little prayer is said after the talk, followed by one of our cheers," said sophomore Grace Siegfried.
The traditions of each team are an effort to turn the team into a family. It gets everyone ready to compete.
Leave a Comment