On The Hunt For Northland's Best Fry
Strong Contenders, But Best Yet To Come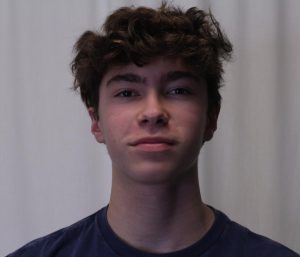 After going on an adventure to find the Northland's best french fries, we are still looking. With many restaurants to choose from, we picked some popular fast food restaurants. Unfortunately, we have yet to find the perfect 10/10 fries, but here's what we have so far. And with many more restaurants to try, we have plenty of choices to seek out the perfect fries.
The French Fry Findings
Lion's Choice
129 S Stewart Road, Liberty, Mo., 64068
Lion's Choice had sufficient fries. They were hot when I first got them out of the bag and were warm throughout. Lion's Choice fries were crispy on the outside while being nice and mushy on the inside, as a good fry should be. Although nicely salted, the seasoning was not very well spread on the fries, resulting in some bites being very seasoned and some not. Lion's Choice fries also had a very plain potato flavor, nothing bad, but nothing great.
Rating:
Culver's
5901 NW 64th Street, Kansas City, Mo., 64151
Culver's fries were hot throughout when they were taken out of the bag. Culver's fries had very little crispness to them on the outside, but the inside is where they shined. A nice mushy inside fry could capture the attention of almost anyone, and it did for me. Culver's lacked on the outside with seasoning, but it's hard to say the great potato flavor didn't make up for it.
Rating: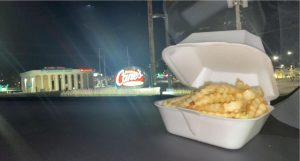 Raising Cane's
8771 N Ambassador Drive, Kansas City, Mo., 64154
Raising Cane's fries were exceptionally hot when first out of the bag, a deceiving first look, as a hot fry is usually a good fry. When I bit into the first fry, it bent from how soggy they were. The outside of the fries lacked salt and seasoning. The inside of the fry was also lacking. As Raising Cane's fries are on the smaller side, there was not much inside to make up for the outside of the fry. As a final blow to Raising Cane's, the fries main flavor was grease. A disrespect to the fry world.
Rating: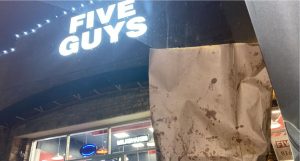 Five Guys
8952 NW Skyview Avenue, Kansas City, Mo., 64154
Five Guys' fries were hot throughout when taken from the bag. Immediately, the french fries shone with great potato flavor. There was not as much salt on the fries as I prefer, but the flavor on the bare fry was more than enough to cover that up. With a slightly crunchy outside and a beautifully mushy inside, everything worked together to make an exceptional fry that was made for greatness. Five Guys fries are definitely my personal favorite, there aren't any places that would get closer to a 10/10 than here.
Rating: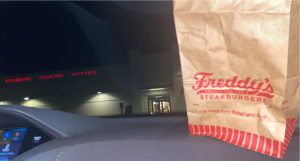 Freddy's
8071 NW Roanridge Road, Kansas City, Mo., 64151
For the final taste test, once again the fries were hot throughout right from the bag. Freddy's fries stood out from most simply because they were very small. With a very small fry comes no mushy inside to be had but an amazingly crunchy outside. Freddy's fries were salted almost perfectly, which had to provide most of the flavor as the potato taste was lacking. Another part of the fry that stood out was the cooked taste that occurred because of how small the fries were. This was a good fry with features that stand out from most.
Rating: