STTV Wins Big In Four-State Contest
Students Work Through Weekend On Prompts
After working all day Friday, over the weekend and more on Monday to film video projects around Kansas City, the STTV broadcasting staff ended up as big winners in the Academy of Scholastic Broadcasting Contest.
In previous years, STTV traveled to Springfield, Mo., and competed in the ASB 4-State contest in person. After the COVID-19 pandemic began, the competition was canceled for two years. But this school year, it was back on — virtually.
"It looks a little different when we go to Springfield," broadcasting teacher Janet Sobbe said. "Obviously, there is a weekend's worth of contests. You go to rooms and get your prompts just like you do at national contests and things like that, but they're doing a virtual contest this year because of COVID."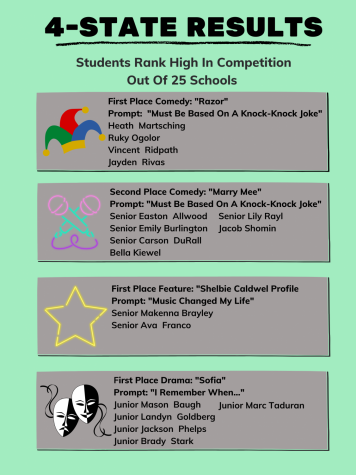 The staff members participating were excused from class Friday, Nov. 5, to start their contest entries, and they worked throughout the weekend and the morning of Nov. 8 before turning them in.
"Students have permission from their parents to travel all over the metro area shooting their stories working," Sobbe said. "On Monday, we watched them all, had our own little donuts and debrief and tweak some things if they need to."
Students were back in class by Monday afternoon after the video submission party.
Graphic producer senior Brooke Lamanske said it was equivalent to making videos for STTV, but they used them for a contest before airing them on the show.
"All of the producers, we're all required to participate in the contest," Lamanske said. "Other STTV people are participating too."
Head Engineer senior Mike Huey said the submissions were longer than a normal STTV video and were supposed to be more professional than ones aired.
"It's supposed to look better than what you'd see on STTV, typically, because it's a representation of what our program here at Staley actually puts out," Huey said. "All it is is how well can you make a video based on the prompt that they give you."
Lamanske said there were different categories for the prompts, such as broadcasting stories, commentary videos and newscasts.
"We all get these topics to look at and edit and research," Lamanske said. "My prompt is going to be a commentary, so we're going to do a little bit of research and then we share our opinion based on the topic that we get."
Since the STTV students were not able to travel and participate in events like this last year, Sobbe said she was really excited to be able to get the students involved in the contest and make it fun.
"We had snacks, served them lunch," Sobbe said. "We had T-shirts made, and we kind of made it more of an experience than just an assignment or another contest to enter. We came back on Monday, they showed me what they had, and they came in really strong with most of their stuff done and just had some tweaks here and there."
During their premiere of all the videos, some of the assistant principals went down to the Special Events Center and watched with the group.
"It was really fun," Sobbe said. "They enjoyed themselves."
Winners were announced Nov. 11, and all but two videos submitted ended up placing. They are showing each of the videos on the daily show this week and next. See all the submitted videos here: STTV's Contest Entries.