FCCLA Stars of STAR
FCCLA Star Events Competition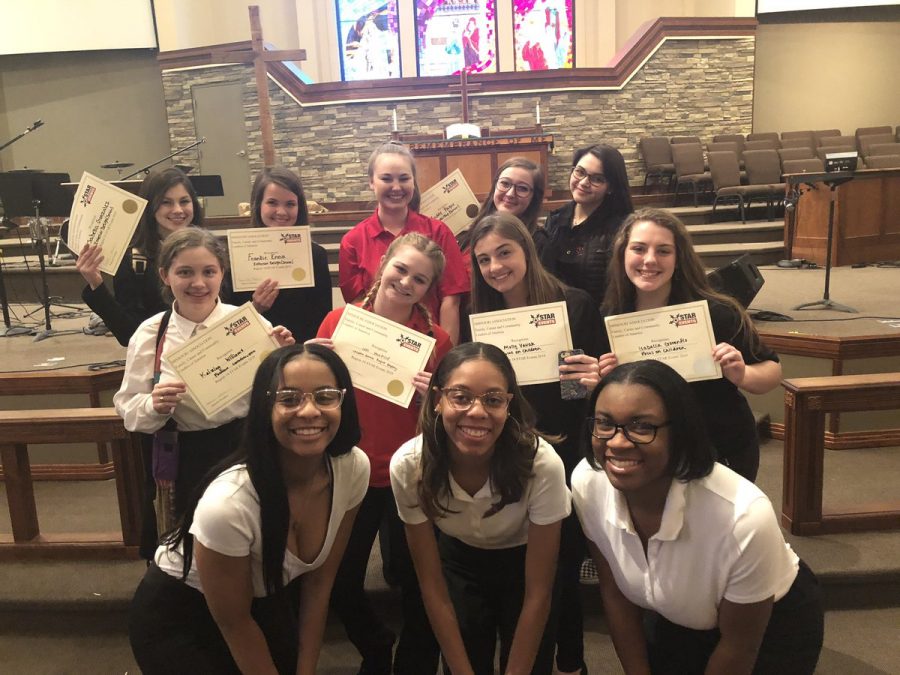 For Family Career and Community Leaders of America students, one of the most exciting days of the year was the FCCLA "STAR" events competition that took place at Woods Chapel Church on Tuesday, January 22. Projects from interior design, chapter service project display and fashion construction were presented from various students, who are STAR event competitors.
"My favorite part of the whole day would have to be after we presented," said junior Frankie Enna, who competed in the Interior Design category. "We felt good about what we did and felt that we impressed the judges."
Those who were not competing had the chance to be student judges, meaning that they judged and observed presentations from competitors in the Region 14. Two adults and one student made up the advisers, who were the judges.
During the awards, there was a chance to earn a Gold Medal. The top two competitors in each category qualified to move on to state. Both silver and bronze medals were also awarded to those competing in other categories.
Junior Frankie Enna and sophomore Isabella Gonzalez qualified for the FCCLA state competition in the Interior Design category. Freshman Lexi Hatfield qualified for Chapter Service Project Display, as well as junior Kaizley Williams qualified for Fashion Construction. Seniors Lonyae Coulter, Jade Greene and D'Karia Bascom submitted their Chapter Website Design presentation online, which automatically advanced them to state.
"It's a day of competition," said FCCLA Sponsor Christian Winn. "It's a chance for the girls to show off their hard work."
In between presentations, students had the chance to fully prepare for their event before they presented in front of the judges. The presentations themselves were closed, so no students who were competing could watch as others presented.
Not every student who attended competed. Other FCCLA students, including those who competed through an online submission, went to support those competing.
Preparing for the STAR event took months of preparation, and the Region 14 meeting in October, also at Woods Chapel Church, was where Staley FCCLA and organizations from schools within the region met to discuss STAR events and how to begin their projects.
The competitors chose topics that they believed they could use to qualify for state.
"I learned that I was confident in my project, and learned that if I stay positive, the outcome will be much better," said Enna.
The state competition will take place March 17-19 at Tan Tar A Resort at the Lakes of the Ozarks, Missouri.