Dishing Out New Eats
Prostart Students Utilize New Skills
Prostart has been making all kinds of new foods lately. They're trying out new dishes and preparing for upcoming competitions, all while dealing with a lack of hot water in the classroom.
"They will be making bronco fajitas which is a chicken fajita that has sliced peppers and onions and pumpkin bars with cream cheese frosting in about two weeks," said Prostart teacher Rachel Mitchell.
The students have labs once or twice a week in class depending on if they have hot water. They were without hot water for about a month and were having to boil water to do their labs.
"In Prostart, there are two different levels, the upper and lower level. The lower level of prostart works on content, while the upper level, varies due to what unit they are on. They class also participates in labs where they can't talk while cooking," said Mitchell.
It is more than just a class, it is a cocurricular activity.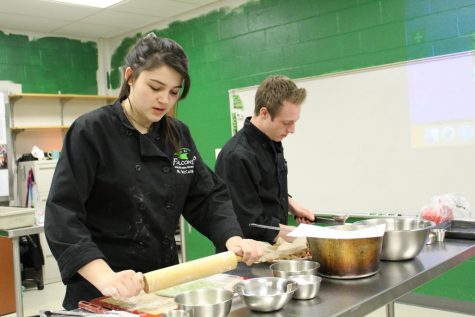 "The students learn from the environment and working with teammates, getting to know who they are working with as a person," said junior Michaela McCarthy.
It brings them all together as a family when they work in teams.
"They try to utilize learning new skills and cooking foods they haven't done before, so for example, we would do a tomato braise chicken. And with that, it's more about learning technique of braising, searing it before, and finishing it in a liquid so they just try to incorporate them throughout the year," said Mitchell.
The students in the Prostart two class began practicing for their upcoming competitions two weeks ago.
"They are in the middle of working on their menu, so they've already had two practices where they're trying out different recipes for appetizers, entrees, and dessert," said Mitchell.
They practice once a week as of right now, but closer to end of the semester and beginning of second semester they will practice twice a week. During competition week, they practice until 8 or 9 p.m. and do run throughs as if they were at competition at that moment.
The first competition for FCCLA is at the end of January, and the first competition for Prostart is Feb. 1 at the Johnson County Community College. The state competition will be held on Feb. 21 and 22 in Springfield, Missouri.
"Last year, they made a pomegranate lime sorbet and mascarpone ice cream," said McCarthy.
They ended up taking sixth place last year at state and fourth place at their Johnson County Community College competition last year.
"This year in Prostart two we aren't doing as much book work as we did last year. We're working on more complex work such as garnishes, because last year we worked on fruits, vegetables and different types of pastas," said McCarthy.
They wanted their team to be more elevated, and that's what there working towards throughout the rest of the year.