Who's Got Spirit!?
Male Cheerleader Shares Experience
     While sitting on the bleachers during a girls varsity basketball game his freshman year, sophomore Kyran Fish realized he wanted to try out for cheer. He said that he had been pondering the idea for a while but had never acted on it.
"I saw the cheerleaders that night, and I just sat there thinking,'I'm going
to do cheer,'" said Fish.
"It looked like they were having a blast."
Head Coach Jenn Newman said Fish was really excited to be part of the team and learn new things.
"He is always willing to try new things and work hard to improve," said Newman.
Fish held the position of back spot on the junior varsity cheer team. This position was known as one of the trickiest in cheerleading according to Fish.
     He said his position is key to guaranteeing the safety of the flyer. The flyer is the person lifted into the air performing the stunts in the routines.
"Every position can be hard; you just have to work at it," said Fish.
He gave an example of what he meant by hard work. He set two personal goals for himself after he made the cheer team.
"My first goal when I started was to do a round-off, then I got it," said Fish.     "My other goal is to improve my toe touches."
Coach Newman described Fish as very hardworking, dedicated and enthusiastic.
     "His personality and work ethic help to push his teammates to have great attitudes and to continue to work hard," said Newman. "He leads by example and is a hard worker."
Cheer allowed Fish to socialize and get to know teammates better.
"You get to make new friends and new memories," said Fish.
Fish became close to his teammates on both junior varsity and varsity
— specifically, sophomore Bridget Duke on junior varsity and junior Marypaige Miller on varsity.
"They are there for me and push me to do my best," said Fish. "In total, all the girls on both teams are so nice and so sweet."
Fish made a big impact on the cheer team.
"His personality is amazing, and he's always so happy and excited, and
     I think everyone feeds off of that, and everyone enjoys having him as a teammate," said Newman.
Covid-19 has made cheer difficult. The team had to wear masks at all times except for stunting.
"Wearing masks and doing cheers and motions is very hard," said Fish. "It's tough. It really is tough."
Fish said he enjoyed cheer and the experience
of being on a team and said both junior varsity and varsity were amazing girls and the coaches were amazing as well. He said he was crossing his fingers and hoping that next year he would make varsity cheer.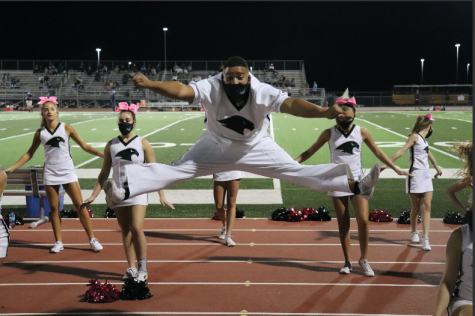 During a home football game, sophomore Kyran Fish along with the rest of the cheer squad cheered Staley to victory against Oak Park High School 43-12 Oct. 9. Fish was the second male cheerleader in school history and said he enjoyed being part of the team. "It's fun, and you have a blast," said Fish. Photos by Bri Tremper