Search To Success
Senior Accepted Into Prestigious Program
Hang on for a minute...we're trying to find some more stories you might like.
Only one Staley student was accepted to Project Search, senior Corbin Sampson. The program can change his life by giving him an opportunity to explore various occupations throughout a hospital and find employment.
"When I was first announced that I actually got in the program, I was super excited, and there was a huge party, which was super awesome," said Sampson.
Project Search is a collaborative program between the North Kansas City School District, Center for Human Services, Vocational Rehabilitation and Good Will. North Kansas City is the only district in the Kansas City area to have a program of this sort, according to special education teacher Pamela Rohlfing.
"You come away with skills that you never even knew you had, so that is great for them," said Rohlfing.
Once accepted, students have the opportunity to do four, nine-week rotations between different departments throughout Truman Medical Center. The students in the program are trained with assistance at various positions and eventually work as an employee for the remainder of that rotation. After the rotations are completed, Project Search also helps their students find employment, and they have a 100 percent job placement rate.
"I am most excited about getting a job after Project Search," said Sampson.
Since the program is through the school district, Sampson will still be considered a Staley student, and as Rohlfing calls them, super-seniors. Sampson walked across the stage at graduation with his classmates on May 7, despite still being considered a student.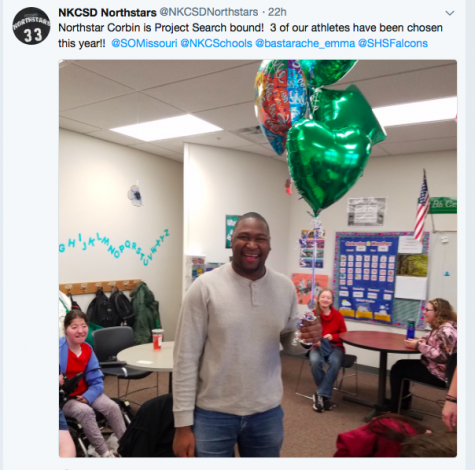 To be eligible for Project Search, he went through a formal application process. All students in the program also must be able to work independently and have the ability to problem solve. Sampson was a special case, he had prior job experience working at Hy-Vee, and he also is currently in the hospital program, where students come to school for coursework in the morning and go work at North Kansas City Hospital in the afternoon.
Sampson is only the second senior in Staley's history to qualify for this prestigious program.