Party Like It's 1983
Boys Cross Country Places Third At State
The boys cross-country team placed third at the Class 4 State competition this past weekend. The last time a team in the North Kansas City School District made it to the winners' podium was 1983.
"I was really excited, because I know we have had guys that did well individually, and that's always fun, but none of us had ever placed that high as a team before, and nobody in the district has either in a very long time," said junior Jack Warner. "I know it was special for us and the parents and coaches."
Junior Luke Winkler placed 14th with a time of 16:33, senior Preston Wheeler placed 15th with a time of 16:34 and junior Jack Warner placed 19th with a time of 16:37.
"This is my 29th year as a cross country coach, and I've never had a team make the podium, that's how big this is," said head boys and girls cross-country coach Todd Warner.
The podium team consisted of Wheeler, Winkler, Warner, juniors Collin Riggins and Nathan Nguyen, and sophomores Dawson Walker and Drew Sallman.
Three runners from the girls cross-country team qualified for state individuals. Seniors Haylee Roberts and Maddie Pare and junior Alex Hamre qualified. Hamre placed 15th, and it was her third trip to state.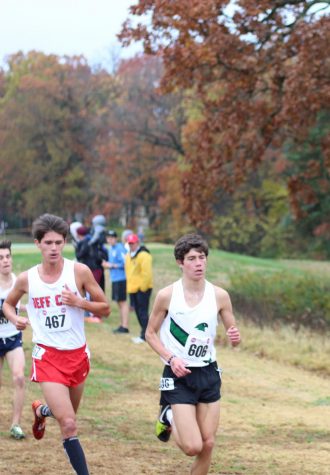 "I think the thing I'll remember is being at the three-mile mark and seeing the team perform. When I saw the fifth runner come through in good shape up in the middle of the pack, I thought 'I think we might have this,'" said coach Warner.
The boys team's average time was 16:54. Rockhurst High School finished first with an average time of 16:33, St. Louis University High finished second with an average time of 16:48.
"It's a process I plant the seed, and they do the work, and it could be something I said to them as a freshman, and we keep building on it," said coach Warner. "My coaching staff, coach Adair, coach Bears, coach Maultsby and myself throughout the year would put little seeds of 'Hey, that was a great workout,' 'Hey, I think you're ready,' 'Hey, we got this,' and try to build confidence over a long period of time."
The team left Jefferson City, Missouri, with four All-State Runners Winkler, Wheeler, Warner and Hamre.
"To have that happen was incredible and to have my son on the team made it even more special. I've known some of these kids that I'm coaching since they were 5, 6, 7 years old, and to have the other coaches from the other schools around here congratulate us, it was just a great day," said coach Warner. "I love the sport. I love the comradery of the other teams, and it was definitely something that I was glad I could experience before I retire."