Assassin: Seniors Run Game Of Strategy
Students Compete To Win Cash
Strategy. Deception. Water guns. It's Staley Assassin time where assassins and targets join a game of strategy and deception to win money.
The game is run by three seniors who were named commissioners. Assassins, who are also targets, paid $5 to join the game. On Sunday, Oct. 31, and early Monday, Nov. 1, the participants found out who their target was going to be. The goal was to get the assigned target wet with water by spraying them or dumping water on them to eliminate them from the game while avoiding being terminated by their own assassin.
The last assassin standing gets the prize money. This year, there were 136 participants and each paid $5 making the total $680 before any commissioner cut. People have been going to great lengths to terminate their targets and to stay safe from getting out of the game.
Three days into the game, senior Josh Mormino's plan A to get his target didn't go as he hoped. But Mormino was able to get his target senior Lily Thomas's address from a shared friend of theirs.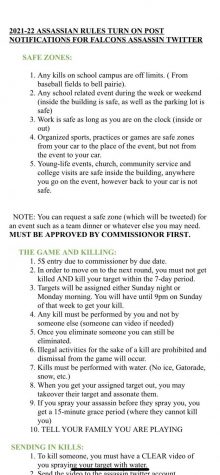 "At first I was intimidated because I was like, 'How am I going to find this information about her?,'" Mormino said.
Once he got the information he needed, Mormino went to her house and hid in the tree of her front yard and waited until she got home.
"I realized I wouldn't have caught her if she ran to her car, and then I moved to her tree for about an hour," Mormino said. "I knew she wouldn't see me out there, so I didn't have to worry about hiding."
He then went to the side of Thomas's house that he thought was a better spot. Meanwhile, Thomas was leaving softball practice. Thomas arrived at her house and recognized a "mysterious" car parked on the other side of her street. She said she called her dad so he could check the area for anyone armed with a water gun.
"I was stressed because I know Josh, and he's not the type of person to not try," said Thomas.
She said her dad didn't find anyone, and she made it inside safe and dry. Mormino said he saw Thomas's dad's flashlight and got away before anyone knew he was there. It wasn't until the next day that Thomas found out what had happened the night before. Mormino wasn't going to give up and prepared plan B.
Mormino found out Thomas was working one night and removed his spare tire from the back of his car so that Thomas didn't recognize it when he was there. Thomas circled the parking lot, water bottle in hand, checking for any signs of Mormino. She checked behind a large garbage bin, and once she had her back turned, Mormino sprinted from the grass and sprayed her.
"I was just doing it for fun," Thomas said. "Obviously it would have been fun to win, but the second I heard Josh was my assassin, I was like, 'There is no way I'm making it through the week.'"
Different players have different motives whether it's to win the prize money or just for fun.
3 hours in a tree pays off for Mormino…. See ya Lily 👋 pic.twitter.com/L8Fx3wyCjj

— 2021 SHS ASSASSIN (@falconsassassin) November 2, 2021