Staying On Track
Railroad Workers Fight For Better Working Conditions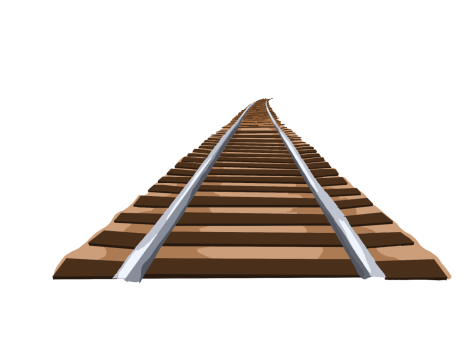 With the holiday season coming to a close, the nation faced concerns about a potential economic shutdown after railroad workers threatened a strike over working conditions. A strike would cause railroads to stop, essentially bringing much of the economy to a halt.
     About 30% of freight moves by rail in the United States, according to National Public Radio. A strike would affect businesses and farms, as well as delivery of necessities such as food, fuel and water. If railroads workers strike, consumer goods would be in short supply.
     "If they did go on strike, everything would stop," recording secretary for United Auto Workers Local 249 Shirley Mata said.
     Railroad workers have been fighting for better working conditions and a pay increase. Railroad companies have adapted new policies regarding attendance, sick days and time off, leaving their employees frustrated and dissatisfied. BNSF Railway initiated a point system to track employee attendance. They get one personal day off a month and are docked points for taking days off beyond that.
     John Defoor is a conductor for the BNSF Railway who said the attendance policy has made the railroad a hostile work environment. 
     "If you take off Monday through Thursday, it's two points; Friday and Saturday is four; Sunday is three and holidays are seven," Defoor said. "You get 30 points for the entirety of your career."
     Once all points are used, workers risk losing their jobs. 
     BNSF Railway gives employees three days off a year for sick days and doctors appointments, but they have to give 30 days notice, and they can only take off time between Tuesday and Thursday. Since people can't predict when they will be sick, Defoor called the policy impractical.
     "Nobody can manage that they are going to get sick in a month on a Wednesday night, so it's kind of an impossible situation that they have put everybody in," Defoor said.
     U.S. President Joe Biden signed a bill Dec. 2 passed into law by Congress that made it illegal for railroad workers to strike.
     "So much of what we rely on is delivered on rail, from clean water to food and gas and every other good. A rail shutdown would have devastated our economy," Biden said in a speech Dec.2. 
     He said a strike would have put 765,000 Americans out of work.
     The bill gave workers a 24% pay raise over five years, caps on health care premiums and one additional personal day, but no paid sick days, according to NPR. Mata said workers are asking for seven sick days. A bill adding sick days passed in the House, but it was killed by a 52-43 Senate vote. Six republicans voted for the bill, and one democrat voted against it.  
     "Basically, they put the health and safety of workers underneath the fact that money needed to be made, because our Christmas presents would have been late if they'd allowed them to go on strike," Mata said. "There's lots of risks involved when the government decides that it is their job to call the shots."
     Defoor said that because they only get three sick days, people often come to work sick. 
     "People are coming to work with COVID-19 and the flu and getting other people sick," Defoor said.
     Senior Spenser Nash is familiar with the railroad and said Congress shouldn't have stepped in.
     "This is a matter for the railroad workers, the unions and the companies," Nash said. "It's a way to negotiate better terms for the workers because they're not getting what they think they deserve."
     Defoor said getting in trouble for being sick isn't something the railroad should be doing to their employees. He hoped workers would be able to have more sick days.
    In a new policy that took place Jan. 1, the company CSX will no longer assess points regarding whether an employee is sick. They also said their consequences will be nondisciplinary and non punitive. Points will expire on a 12 month cycle instead of over the course of an employee's career. BNSF has yet to speak about their policy of health related absences.