Sisters Share Experiences Diving Together
Jerrilynn Phillipi and Annabeth Phillipi Bond Over Sports
   Participating in sports together from a young age, senior Jerrilynn Phillipi and freshman Annabeth Phillipi first did gymnastics together before splitting off to try other sports independently. Annabeth started dance while Jerrilynn started dive, and now both are on the varsity dive team.
     "I quit gymnastics and moved to dive, and she started doing it too, just because we both thought it would be fun," Jerrilynn said. 
     For dive coach Hanna Bergstrom, it was her first time coaching either of the sisters. She said they were not only siblings but
also friends. 
     "They definitely have each other's backs, encourage each other, can obviously bicker and fight, but it's all in good spirits,"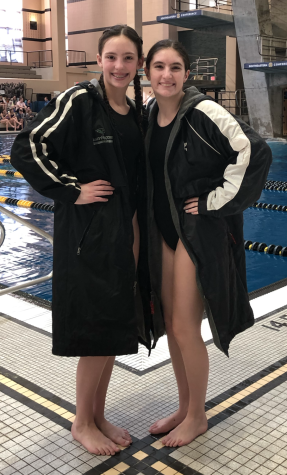 Bergstrom said.
     It was Jerrilynn's fifth year and Annabeth's first year diving on the team. Jerrilynn said having her sister join made it a more enjoyable experience.
     "It's been really fun, just because we're both really busy, so we don't always get to see each other as much as we would like," Jerrilynn said. "So, having this time together while we're diving has been really fun."
     Participating in a sport with your sibling could have its benefits. Annabeth said diving with her sister motivated her to push herself more.
     "It is really inspiring to see where she is and know that I need to work to get to where she is," Annabeth said. "It inspires me to be more like her."
     Jerrilynn said during her sophomore year she didn't have many people to go to meets with.
     "It's been fun having another person there that I can sit and talk to," Jerrilynn said. "It makes the meets, especially the long ones, easier to get through."
     Annabeth said being on a team with her sister was a different dynamic than at home. 
     "You have to motivate each other more, and it gives you unique experiences and gives you something else to connect over," Annabeth said.
     Jerrilynn said although they were siblings, they could still get competitive.
     "We're not trying to get the same dive; it's who can get their new dive first," Jerrilynn said. "At the same time, I really want to encourage her and push her to get better, especially since I'm not going to be around to help her out next year."
     Jerrilynn said dive was something that brought them together because in other areas of their lives they differed. While Annabeth pursued dance, Jerrilyn did more academically. 
     "Having this one thing that we both do and both really love, it's a good point to bring us together and bring us closer," Jerrilynn said.