Boys Basketball Team Sets Sights On State
Team Hopes To Place at State
Joe Smith, Writer, Photographer
January 19, 2023
     The varsity boy's basketball team is coming off a 27-5 overall record and a third-place finish at state. Led by a junior-heavy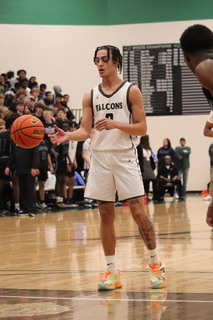 team last year,  the current seniors are looking to take the final leap into a state championship game.
     "I think being so close last year kind of introduced us to the feeling, and once you feel it, you never want to feel that again," senior Kayden Fish said. 
      The 2023 season will feature a full senior starting lineup. It will consist of players from last year's final four run, with two
starters returning. Senior Kyan Evans is coming off his best season, averaging 15.7 points per game, 5.6 assists per game and 2.6 steals. Evans will be taking on the same role as last year, the team's leading scorer and facilitator. 
     Fish, the 6 '6 center, was a big part of last year's success, getting double teamed every time he touched the ball in the post, in turn creating open space for his team. Fish was the second leading scorer, at 11.5 points per game, 4.2 rebounds per game and on 60% shooting from the floor. 
     "Double teams are a huge part of my game, but I'm not worried about them anymore because I just want to see the ball go through the hoop no matter who does it,"  Fish said. 
     A winning culture is something the school's basketball program has become accustomed to,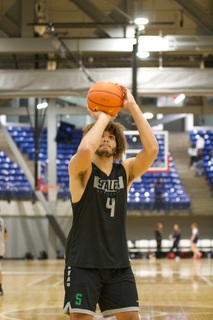 coming off three consecutive 20-plus win seasons.
    "It's about the time we spend together and meeting the expectation that we have for ourselves." said coach Christopher Neff
"The culture is the people and to be able to win a title with those kiddos and those coaches, it would mean everything."
     Those successful seasons also brought the first three conference and district titles in 2020, 2021, and 2022. 
    "We just want to get better and better every day," coach Darryl Williams said. "We're excited to start playing games again and figure some things out to help us grow and get better as the season goes on."
     Neff and Williams hope to add the elusive state title to their resume. After attending the state game twice before as the head coach of Lafayette High School, Neff looks to create history with his players this year.