Loss Of Softball Starting Player Meant Big Changes
JV Player Steps Up To Fill Senior's Cleats
When a starting varsity player is injured, it can mean big changes in the original plan for a team's season, and other players get bumped into a starting spot. That's what happened with softball this season.
Senior second baseman and team captain Paige Phillippe's finger broke while she was trying to catch a fly ball with the sun in her eyes during a game against St. Joseph Central High School about three quarters into the season, and it ended her last high school softball season.
"Obviously it's a blow to your team," varsity softball coach Matt Schweitzer said about losing Phillippe. "Sometimes it can be for your morale."
When a team's energy takes a hit, it's important for people to stay positive even though it can be difficult and may take some time to adjust. But the time adjusting can be quick when you have people step up.
"It's the main job of a coach to keep everybody up positive," Schweitzer said. "Create a culture where you believe in your team, and rally everybody else around to encourage and keep that morale high. This year we were kind of on a good streak, so anytime you take somebody out of that, it's a little bit of a concern."
When softball lost Phillippe it didn't just affect the position of second base. The lineup was rearranged as well.
"Anytime you lose someone out of your starting lineup it's tough," Schweitzer said.
But Schweitzer said the team stepped up and made it work.
"As much of a big loss as it is, it kind of becomes a minuscule one because everybody else kind of steps up," Schweitzer said. "I feel like that's what our team did this year."
After Phillippe's injury sophomore McKenzie Holmer stepped in.
"When I got brought up full time for varsity, I played in every game, and it was very nerve racking," Holmer said. "But as the season went on, I slowly improved and got better as a varsity player."
Phillippe helped McKenzie in the transition from JV in more ways than just technique.
"She helped me a lot," Holmer said. "She mainly helped to calm me down before every game and take away my nerves.
Phillippe worked to bring Holmer up to a varsity level.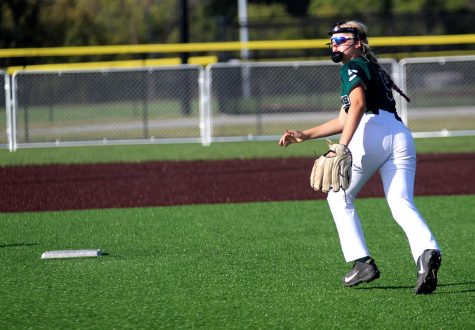 "She also helped with different plays and walked me through what to do and overall," Holmer said. "She just helped bring me up and included me and made me feel like part of the team."
Phillippe was supportive through the time she was injured.
"She did a great job," Phillippe said.
But even with a solid replacement, it wasn't easy on Phillippe.
"Me and Annalise had this thing going," Phillippe said. "But I feel like with me still being engaged and still keeping the team up, and me still being there for everybody, I think that helped the energy a little bit."
Even with all the changes, the team still ended the season as conference champs.