You're My 'Bro-Model'
Brothers Play First, Last Year of High School Tennis Together
Growing up in a family of six, brothers Carson and Mason Gates played on the same high-school tennis team for the first time this season. In previous years, Carson played high-school tennis with his older brother Ethan Gates, who graduated in 2017.
"I enjoy being on the team with my brother, because he's a great role model. I've never admired anyone more than him, considering all of his outstanding accomplishments inside and outside the classroom," said freshman Mason Gates.
Carson scored a 34 on his ACT and had a GPA of 4.3. Outside of the classroom, his fastest serve is 120 mph, which is part of the reason why he is the No. 1 Staley boys tennis player.
"My favorite part about being on the team with my brother is having someone who I've known for so long and someone that I can really trust," said senior Carson Gates.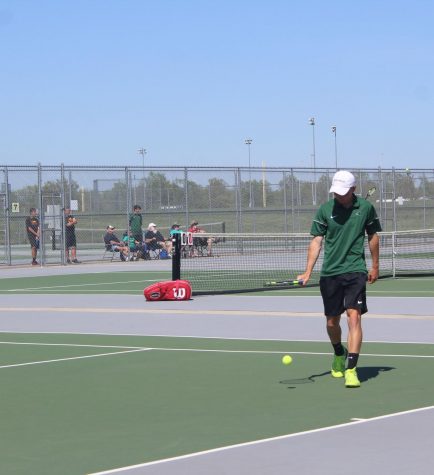 The last two years, Carson has placed second at state in singles, losing to the same person both times. He said he used this as motivation during his senior season in hopes of winning it all, according to head tennis coach Emily McCall.
"The one thing I dislike about being on the team with my brother is that he's so good that it's hard for me to live up to his standards," said Mason..
The two brothers push each other and cheer for one another during their matches, along with cheering for the rest of the team.
"My favorite memory was beating Park Hill South this year. I had won singles and doubles, and some other guys had won, but the deciding match came down to Mason. He ended up winning, and the whole team rushed the court," said Carson.
The team won the Match 5-4, with Mason's match being the deciding factor. Mason won 10-8 on April 19.
"The most memorable moment of this season was definitely our team match against Park Hill South, the closest and most intense match of my whole season. I would go on to win it, and immediately, my brother leading with the team, stormed the court, and it's something I'll never forget," said Mason.
The brothers played doubles together against Lee's Summit High School, and both took first in singles at the Winnetonka tournament with Carson not giving up a single game. Carson also placed first in the Truman tournament, and Mason placed second.
"It has definitely been fun being on a team with my brother, but it will be fun next year to have a team where I don't know anybody and get to make some new friends," said Carson.
Carson went undefeated in singles his senior year, 24-0 in the regular season. Along with winning First Team All-Conference in doubles with his doubles partner senior Alec Creekmore, he also earned First Team All-Conference in singles as well.
"I will definitely miss being on the same team as my brother next year. As I've said, he is truly inspirational, and I aspire to be the man he is some day solely because of his work ethic, skill level and the way he leads the team with an iron fist," said Mason.
Carson has plans to attend Michigan State in the fall on a tennis scholarship, and Mason plans to continue to play tennis for Staley in the spring.