Moving on From Brain Injury
Sophomore Returns To Basketball After Brain Injury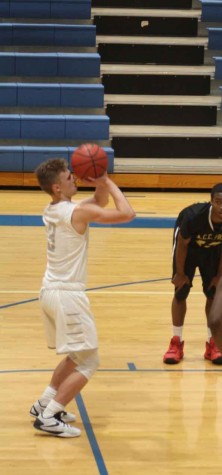 During sophomore Nick Rumbo's 8th grade year, he suffered a brain injury. It happened during passing period in a classroom when a pair of scissors was thrown and hit the right side of his forehead, penetrating 2 centimeters in his brain.
"I didn't even see the kid throw it," said Rumbo. "The scissors just got stuck in my forehead."
According to Rumbo, he was sent to Children's Mercy and had neurological brain surgery the same day to remove the scissors. After the surgery, Rumbo had to start the long
recovery process without playing basketball. Rumbo couldn't play a contact sport during March through July he said.
"It was tough," Rumbo said. "I knew if I followed directions, I would come back a 100 percent, and I did."
He now plays on the varsity basketball team as shooting guard. Basketball head coach James Wheeler said that Rumbo is a great player.
"Rumbo is a very dedicated player," Wheeler said. "He's a very hard worker which has led to his success."
Leave a Comment