Touchdown, Foxy Nails!
Trips To Nail Salon Do Not Disappoint
Foxy Nails
9584 North McGee Street, Kansas City, Mo., 64155
Two students visited Foxy Nails, and here are their honest reviews.
Gabriella Soto
After receiving a gift card to Foxy Nails for Christmas, I hoped they'd be able to get my nails ready for a very important week. They did not disappoint. I scheduled a same-day appointment Saturday, Jan. 8, over the phone.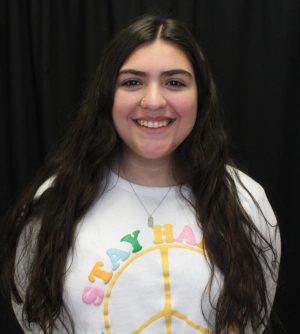 Although the salon was extremely busy, I was greeted immediately and told to pick out the colors for my nails. I knew going into my appointment I would like to get regular polish, as it is less expensive than dip or gel. I wanted to be conscious of how much I spent.
As I reviewed the wall of colors, I was less than impressed with their color selection.They had too many reds and pinks. They also didn't have the right colors I was imagining.
I decided to ask for the gel color pallets despite the upcharge and was quickly overwhelmed with my options. I found the perfect shade of blue and glitter sliver. A full set with normal polish is $22, and gel polish is $25.
I was pleasantly surprised that I was taken back a few minutes before my scheduled appointment time. My nail tech, Mimi, greeted me with a smile and asked me what I had in mind. I explained my vision, and Mimi quickly got to work. She did a fantastic job cleaning up my natural nails and preparing them for acrylics. After Mimi applied the nail tips to my hands, we discussed length and shape. She began to cut, file and make adjustments to the nails to fit my liking.
Mimi then applied the acrylic to my nails. I was shocked at how fast and flawlessly she worked. Within minutes, the acrylic was applied, and I was ready for polish. Mimi painted my nails quickly without error.
The next thing I knew, I was done, and my nails looked amazing. I made my way to the front counter to pay, and several other techs expressed their gratitude for coming in and wished me a great day. The appointment only lasted about 40 minutes. That is the fastest nail appointment I have ever had.
My total price was $47, which included the extra charge for gel polish. I have had my nails done at other salons in the past, paying $45 to $50. I felt that the price I paid for the services I received was more than appropriate.
Overall, I definitely recommend Foxy Nails. They were able to fit me in quickly, had wonderful customer service, were conscious of my time and their prices fell within the average of other salons within the area. While all these things are great, I am most excited that Foxy was able to get my nails ready for week one of the NFL playoffs. Go Cowboys!
Life Isn't Perfect, But Your Nails Can Be
Alaina Licausi
I have had my nails done continuously at Foxy Nails since the beginning of the school year, getting acrylics every time. Before Christmas, I decided I wanted a change. My goal was to have my natural nails grown out and strong, so I got my acrylics removed and got powder dip for the first time.
They added tips on my nails because they weren't yet strong enough. I recently went to the nail salon to get them redone. They soaked my tips off and retouched my real nails up and then placed powder dip to keep them strong.
I've gotten my nails done many times, and I can say that I've gotten practically everything done; acrylics, powder dip, gel, regular polish and designs. I don't recommend acrylics because they grow out quickly and break easily which can damage the entire nail bed. Powder dip is easier on nails and doesn't damage the nail growth. Now that I've tried powder dip, I'm never going back to acrylics.
I like getting my nails done, it makes me feel put together. A lot of people like having their nails natural, but I don't. Having my nails done makes me feel happier and adds a pop of color in my life. I take pride in my nails, and sometimes I base my outfits on my nail color at the time. So these appointments are important to me.
This nail experience was a breeze, and it only took an hour. My nail appointments usually take an hour and a half to 2 hours. My nail technician was nice as well. She did amazing on my nails and was talkative.
Leave a Comment