Crafts Festival Held In Falcon Field House
Ability Arts Festival Planned By PSC Pathway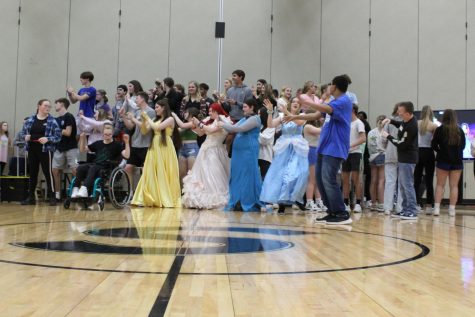 Wanting to give students a creative space outside of their classrooms, social studies teacher Kendall Benner and the Public Service and Communication Pathway students planned this year's Ability Arts Festival. 
     Held in the Falcon Field House April 10-11, the event brought together students of all ages across the district. The first day of the festival was for kindergarten through sixth grade, the second day for seventh grade through twelfth grade. 
     "Ability arts is a crafts festival for kids in our district to sort of come together, make art together, hang out, see other kids, and build on social skills and functional skills," Benner said.
     The project was mainly led by PSC Pathway students.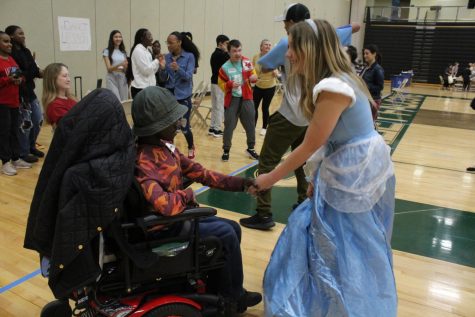 "They came up with the logo this year," Benner said. "They came up with all the craft stations, all the adaptive P.E. stuff. They got me a list of all the materials that were needed, and they made the schedule. I just kind of was the teacher voice behind it all,
really."
     In weeks leading up to the festival, students collected objects for craft stations. They collected socks for a tie-dyeing, as well as water bottles for a lava lamp craft. 
     "We tried to collect most of the big things that we needed in house, just to save some money," Benner said.
     Sophomore Kaylea Scrivner participated in the water bottle collection with a group of friends.
     "We would go around to each class and we did this for like three or four days in a row," Scrivner said. "It was fun because it was for something we were all a part of, and everyone was contributing."
     Sophomore Finley White dressed up as Ariel from The Little Mermaid for the festival.
     "I wore a dress and a red wig," White said. "I just kind of walked around and interacted with them. They could take pictures if they wanted. I could just talk with them if they wanted, all of it was very much based on their comfort levels."
     Scrivner enjoyed watching the event come to life.
     "We were able to find all the stations and stuff that we had put together, and we were able to show everyone," Scrivener said.
     White said the event had a good turnout.
     "Seeing everybody super excited and happy over it was definitely the most fun part," White said.