HOSA Moves On To State
Students Qualify For Missouri State Competition
Nine students are headed to HOSA state competition after completing the State Qualifier Test Feb. 10.
HOSA Future Health Care Professionals is a club dedicated to students wanting to go into health careers. State competition will be held March 28-29 in Rolla, Mo.
"It was a proctored test, so they had to study with college-level textbooks for their specific event," HOSA sponsor Michelle Lawrence said. "If they were in the top 10 in the state on the pre qualifying test, then they get to move on to state and do the skills assessment."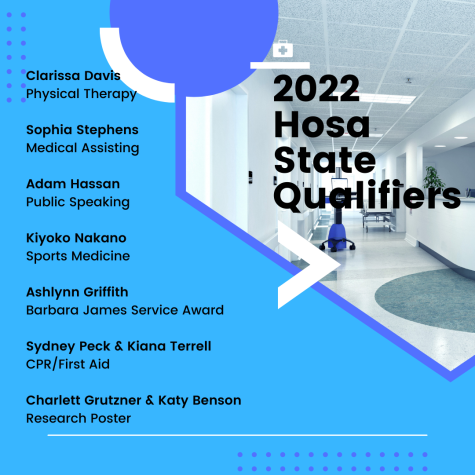 There are 67 events and seven skills correlating with each event. While the test was online, state competition involves judges.
"It's fun to watch the kids get excited about their future and finding a career that they're interested in and then learning more about that career," Lawrence said.
Senior Kiana Terrell is one of the co presidents of HOSA and qualified for the CPR and first aid event. She will be competing with her partner senior Sydney Peck. For their skills assessment, they will need to administer the correct sequence of CPR and first aid.
"There's usually a person acting out choking or a gash on their arm or they are bleeding, and there's also a CPR dummy on the floor," Terrell said. "So one person performs CPR on the dummy while the other is helping the person who is acting."
The judges are silent and can't assist.
"We'll switch off and on for CPR for as long as the judges say," Terrell said.
Terrel said she was most excited to spend time with her partner. They met through HOSA and have gone through the experience together.
"It's exciting to meet a new person and learn all this stuff with them," Terrell said. "So now we're going to compete in an event we're both kind of unfamiliar with, but excited for."
Junior Kiyoko Nakano qualified for the sports medicine event. For her skills assessment, she will need to demonstrate taping procedures for the body, such as the wrist and ankle, and the full structure anatomy of all the bones, ligaments, connecting tendons and muscles.
"I also have to know a lot about vitamins and general sports medicine care," Nakano said.
Nakano said she is ready for the experience.
"We'll have a lot of different conventions and events going on, and lots of different people to talk to who are actually in the field we want to go in," Nakano said.
After state, there is opportunity for more competition.
"The top three in the state then get to go onto the international competition, which this year is in Nashville," Lawrence said.
Leave a Comment