Innovation, Discoveries Set K.C. Zoo Apart
Interspecies Fostering, Elephant Blood Pressure Cuff Among Zoo Innovations
Kansas City Zoo is home to animals from around the world, varying in age, personality and more. While zoo guests know about the Polar bears, African elephants and penguins, they may be unaware of the innovations taking place behind the scenes.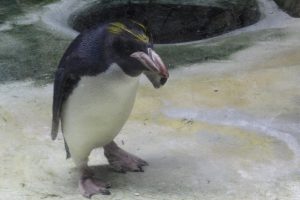 One example is the species survival plan taking place with the penguins. Three pairs of Gentoos fostered three eggs outside of their species – two Macaroni and one Chinstrap. There were also two eggs being hand raised by the zoo vet team.
"We try to keep the penguins to their natural routine mostly, but a lot of our animals are part of what's called a species survival plan," director of marketing Kim Romary said.
Experts from the Association of Zoos and Aquariums got together to discuss the best species survival plan for some of the endangered animals at zoos, one of those zoos being the Kansas City Zoo.
"These Gentoos had formed bonded couples already, so these eggs we had gotten from Sea World San Diego, we placed in their nests because they had already made them," Romary said.
The chicks were all born happy and healthy, and at this point the only thing the staff noticed was that although all chicks are healthy, the chicks being fostered were gaining weight faster than the ones being hand raised.
But interspecies foster parents are not the only innovation at the zoo. Berlin the polar bear turned 32 years old Dec. 11, making her the oldest polar bear in captivity in the United States. Guests may notice that Berlin is not outside a lot because she is usually in the indoor facility napping.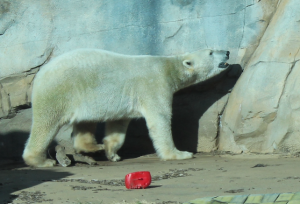 "She has ailments that you would expect to see in a polar bear of her age," Romary said. "So she kind of gets whatever she wants," Romary said.
In 2012, Berlin was in Duluth's Lake Superior Zoo during major flooding, and Berlin swam out of her exhibit, but never out of the zoo. Romary said she was then sent to Como Park Zoo and Conservatory in St. Paul, Minn., where she stayed until she made her way to Kansas City in December 2012.
Berlin is not the only oldest in her species at the zoo. The oldest African elephant in North America, Lady, is 53 years old and weighs 8,295 pounds. Lady is considered a gentle giant that is typically chosen to work with new zookeepers due to her laid-back temperament, according to Romary.
"Some of our elephants originated in Africa and were brought over various times before they ended up at the Kansas City Zoo," Romary said.
One of the ways zookeepers have been able to keep the elephants healthy is a discovery the Kansas City Zoo made: how to take an elephant's blood pressure.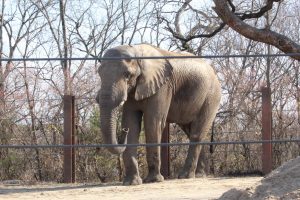 "Our veterinary health team is always looking for ways to do better preventative health," Romary said. "Our team figured out you can take an elephant's blood pressure from its tail because it happens to be level with the elephant's heart. The elephants are all trained to present their tails to the staff. They get a cue from the vet team, and they are trained to do this with positive reinforcements."
When one of the elephants collapsed, the veterinary team took its blood pressure and were able to find out it had hypertension, which allowed treatment for the condition.
"My favorite thing about the K.C. Zoo is the workers," sophomore Tessa Mitchell, who has a zoo membership, said. "They take time out of their day to individually teach you about the animals and answer any questions you have."
Members have noticed the innovative happenings at the zoo.
"Something I love about the Kansas City Zoo is how interactive everything is," sophomore Kennedy Hildebrand said. "I feel like when I go to the K.C. Zoo I learn a lot about the animals that you don't learn at a lot of other places."
The zoo isn't done with its innovations. An aquarium is in the works, and that's expected to open in 2023. More information can be found on the Kanas City Zoo website.
Photo Galleries
Leave a Comment