Late Start: Does Good Outweigh Bad?
Teachers Get Collaboration Time; Tardy Rate Higher
From early release to late start, the school schedule change has affected both students and staff.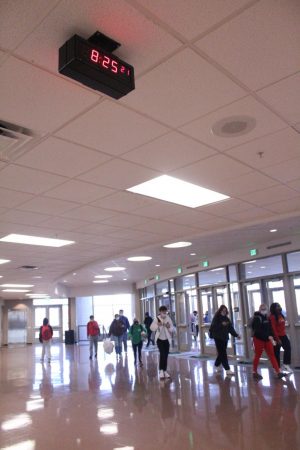 After years of early release on Thursdays, things changed at the beginning of the school year. Late start was implemented, and the reason why might be one high schoolers didn't expect: elementary school transportation affecting teacher schedules.
Because early release was only 35 minutes, it took almost the entire time for elementary teachers to get students off in cars and buses, so they ended up without collaboration time.
"Just because of that dismissal with buses, with car riders, getting kids to Adventure Club, teachers have very little time to collaborate," assistant superintendent of academics Chad Sutton, Ed.D., said.
Staff collaboration was the main reason schools had early release and late start. The change in time has affected how their collaboration time goes.
"When you start your day with that collaboration and that planning, you're a little more fresh, the day's events aren't weighing on you yet," assistant superintendent of human resources Jenni Gaddie, Ed.D., said. "Sometimes at the end of my day, the attention at that meeting isn't as great as it is in my 8 o'clock meeting."
While there may be a positive effect on staff, not all students consider the change positive. It has created problems in attendance on Thursdays at the high-school level.
"
The students are coming in later, and they are arriving later to their first blocks than they do on their regular days."
— Assistant Principal James Wheeler, Ed.D.
"We have noticed on Thursday late starts that the students are coming in later, and they are arriving later to their first blocks than they do on their regular days," assistant principal James Wheeler, Ed.D, said.
Students have had mixed feelings about the schedule change. Some students prefer early release, while others prefer late start for different reasons.
"I don't like late start Thursdays because they can be confusing with schedules," sophomore Fatima Abu said. "It makes me think that it is a Friday, and then on Fridays I have trouble waking up."
It has been something the school community has had to adapt to this year. While students have been affected in their own ways, so have teachers.
"It's just a different flow," ELA teacher Morgan Scheib said. "I think we are used to that early release for a long time, and so it's just a new rhythm."
The change for the North Kansas City School District has been getting mixed reviews from staff, students and families all over the district, but it's here to stay – at least for the rest of the school year.
Do you prefer late start or early release?
Sorry, there was an error loading this poll.