Workin' The Day Shift
Students Work During School Hours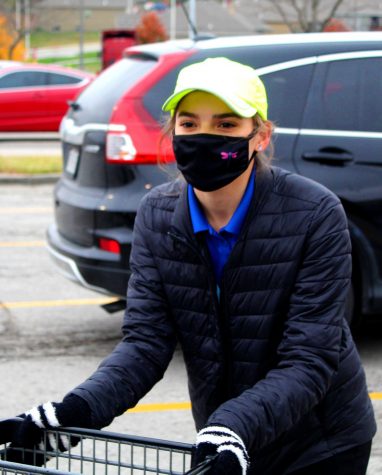 Working 9 to 5. As of recently, Dolly Parton's catchy song has become a reality for some students during the 2020-2021 school year. Since their switch to online, many students spend the time during the day that they would typically be in school at work. Some have found the flexible schedule and newfound freedom to be beneficial to their education, while others feel the constant cycle between work and school draining.
     For some students, working during their online classes gives them more freedom with their work schedule.
Senior Jessica Majhor utilizes her online days to get work done.
     "I'm able to schedule work on the days that I don't have school so I won't have burnout in comparison to if I worked and went to school on the same day," said Majhor.
     One student, senior Najma Said, even fits schoolwork into her time at work.
     "I have Canvas on my phone, so if I'm on my lunch, I can easily knock out a couple of assignments while at work," said Said.
     While working during online school has its perks, it has also shown to have some downsides. Senior Drew Jones said working while being a virtual student has given him less time to focus on schoolwork.
     "I haven't fallen behind at all, but my grades tend to slip," said Jones. "It takes away focus, and I don't have as much time."
     At the end of their shifts, sometimes students feel too worn out to do all the work assigned to them that day.
     "I do try to catch up, but after coming back from a nine-hour shift, I really don't feel like completing the eight assignments I have due in three days," said Said.
     For Said it is hard to find the energy to do the work for her rigorous course load.
     "I feel suffocated with the due dates," she said. "It really feels like I can't breathe. It feels like we do more work online than we ever did while we were in school."
     Whether online school is a blessing or a burden, students feel that this has been a learning experience. For senior Jessica Majhor, getting work done ahead of time has become essential.
     "It's helpful to get things done ahead of time in case you end up working on a day that a lot of stuff is due," said Majhor.
     And communication is key. This is a learning experience for everyone.
     "Reach out to teachers while you can, as you do not have normal
classroom direction," said Jones.
     For those working during online classes, finding a balanced schedule that works for them is important as well as communicating with teachers.