How "Green" Are We?
Looking into how the school stays sustainable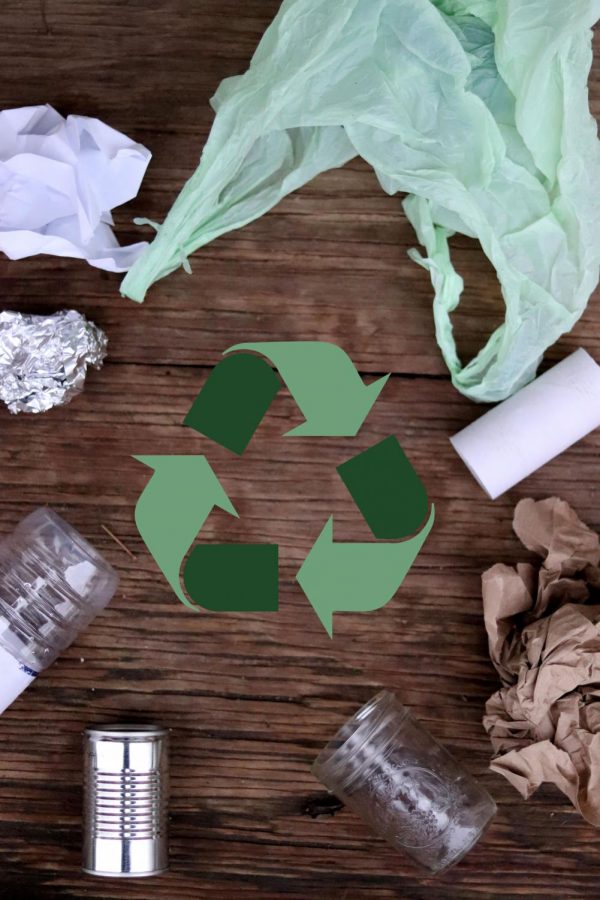 With climate change protests, plastic bag regulations and metal straws being on the rise, the environment is a relevant topic more than ever. For students, being environmentally friendly can affect nearly every aspect of life, including the school day.
"I think that the environment should be important in our life at this age because teenage years are when we everybody starts really forming their beliefs," said junior Olivia Hutchcraft.
The school takes sustainable methods into consideration, enough so that Staley earned a LEED Silver when it first opened. LEED certifications are awarded by the U.S. Green Building Council, making Staley a "green school." Though, there have been some changes in recycling and the cafeteria since the school's opening.
The district no longer recycles as a whole, certain buildings must make the decision whether they wish to recycle.
"In past years, Town and Country did our recycling. When we first started with them years ago it was free to the district, in fact, they paid North Kansas City Schools for the amount of recycling we did," said Doris Farage, the director of custodial services for North Kansas City Schools. "They eventually quit paying us and started charging some of our buildings."
The school decided to continue recycling, but in turn having to pay Deffenbaugh for its services. Issues have continued to rise with the school's recycling, and there are concerns when it comes to the effectiveness.
"Stuff gets thrown in there that's garbage and not recycling. It's very consistent throughout the building. I've got 12 guys who probably spend an extra hour a night sorting through the bins," said facility manager Ryan Davis.
Students not using the bins in the correct way counteracts much progress the school can make in reducing its waste.
"In some of those buildings, we are being charged a large sum each month due to contamination in the recycle bins," said Farage.
Students themselves see the misuse of the bins at the classroom level.
"We have recycling bins and stuff, but teachers don't enforce that we use them. If you go up to a recycling bin there's usually not a lot of stuff in it, and most people just throw paper in the trash," said sophomore Lily Rayl.
On top of troubles with recycling, the cafeteria contributes a significant amount of non-recyclable waste during the school day because of lack of student cooperation.
"When Staley first opened, we did use a biodegradable tray there. That required the students to put the biodragable tray in one trash can, the food waste in another trash can, and the rest that could not be recycled in another trash can," said Jenna Knuth, district director of food and nutrition services.
These trays contributed to the school's original "green plan," but changes had to be made after students stopped sorting their waste.
"That only lasted for a few years, and then students started refusing to separate all that and started throwing it in all the trash cans, so we couldn't recycle or compost anymore," said Knuth.
With roughly 1700 students in the school, the five-compartment foam trays get frequent use alongside the plastic utensils during every meal.
"Once a year we look into costs for either biodegradable or compostable tray. Last year when we looked, it was around $249,000 a year just to switch over to biodegradable trays, and then you also have to get your waste company to put them in a different trash bin than your normal waste, which they also charge us for," said Knuth. "We don't currently have enough money to pay an extra $250,000 each year to do something like that."
The school's shortcomings can be improved through the hands of students to reduce their impact on non-recyclable waste. Davis said taking extra steps before tossing into classroom bins is a way to improve and make the school greener.
"Kids have to take time to think about, 'Is this trash or is this recycling?'" said Davis.
Hutchcraft and Rayl are just two examples of students who turn toward more sustainable methods, like avoiding any single-use plastics out of concern for the environment.
"To reduce my negative impact on the environment, I try to use reusable water bottles, cups and silverware. I will even bring silverware from home when I eat my lunch," said Hutchcraft.
Students taking these extra steps into their own hands is for the purpose of a bigger picture.
"We're still really young and we have a long future ahead of us. If the environment is going downhill, then our kids won't have the same experiences left for them," said Rayl.