Sorry, We're Closed
Government Shutdown Affects Local Families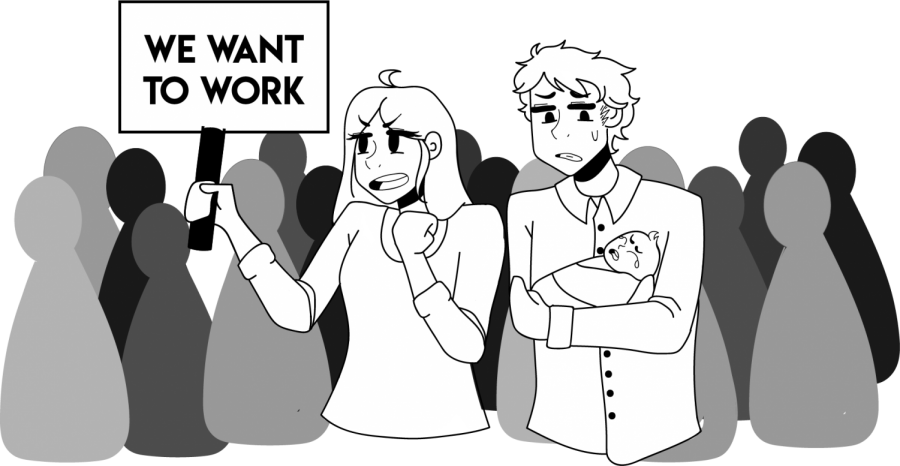 The United States just went through the longest government shutdown in American history, and another shutdown may happen in the near future. The shutdown started Dec. 22 when President Donald Trump made the decision to partially close the government in an attempt to gain the funding needed to build a border wall. 
This 35-day event came to a temporary end on Jan. 25, but Trump promises to shut down again and declare a national emergency if border wall funds aren't allocated in three weeks. 
According to the Washington Post, Trump requested $5 billion in federal funding for the new wall along the border between Mexico and the United States. The political issues that lead to the shutdown arose from clash between Trump and Senate Democrats. The democrats were not willing to allocate the money for Trump's plan and the shutdown was a result of this. Trump stated that he did not plan on reopening the government until he received the funds, and he further stated that another shutdown could be put in place three weeks after it reopened if lawmakers still cannot decide.
"I think Trump is definitely justified in calling for a government shutdown," said sophomore Aaliyah Aramjoo-Hull. "I believe if someone is in that position of power then they have every right to call for a shutdown when it's necessary and I think it definitely is in this situation."
Though whether the shutdown should occur isn't the only thing being discussed. A variety of speculation surrounds the issue of "the wall." Trump's intention is to create a border that wards off illegal immigration into the United States. The Washington Examiner shows through a national poll that 42 percent of Americans in 2019 support Trump's wall, which is an 8 percent increase from just last year. Whereas 54 percent of the nation stands in opposition of the wall with a decrease of 9 percent from last year.
"Personally, I don't think the wall will benefit us as a country whatsoever," said junior Hailey Peck. "To be blunt, I think this situation is the most ridiculous thing ever, and there are so many other methods that of handling this."
While there are heated debates about Trump's strategy in office, there stands a whole group of citizens who are dealing with the drastic effects of the shutdown. An estimated 800,000 federal employees were being left with no paycheck during the government closure. 53 percent of those employees were still required to attend to their work as usual without being paid.
This has caused quite the uproar across the country among federal workers and civilians alike. Labor unions assembled in an attempt to try and combat the shutdown, specifically the American Federation of Government Employees who filed a lawsuit against Trump.  They claimed that requiring unpaid employees to still work is "illegal and unethical." On top of workers missing out on their paycheck, a significant amount of money was lost from numerous government contracts.
In Kansas City alone, an estimated $10 million per week was being taken away from companies holding federal contracts, according to National Public Radio Station KCUR. The shutdown affected people in a variety of places, including those in our very own school.
Senior Sydney Horton has dealt with her father, an internal revenue agent for the IRS, being left without pay during the government closure. 
"Thankfully, my family hasn't had to deal with the worst of the shutdown. We were able to use our money in savings, so we didn't have the pressure of thinking about 'How are we going to pay the mortgage?' or 'How will we pay the car payment?'" said Horton. "There are plenty of families that do go through that though. I'm fortunate, because my mom works as well, and we had a separate income coming in during this. I feel we were very lucky to not have to be put into a tighter position."
With the government being opened, Horton's father is receiving his salary again. He was just one of 12,000 Missouri residents that who would be seeing the effect of this. Though if negotiations aren't made in the oval office soon, many workers' paychecks could stop again and the country will have to face the challenges once again. 
---
In Times Of Trouble
During the government shutdown, many businesses decided to lend a helping hand to those in need. There were several deals and offers to help assist furloughed federal workers. Kansas City alone had quite a few options that government employees could take advantage of during the closure.