Spirit Traditions
Traditions In Place to Leave A Legacy
A school's spirit and pride are built throughout many years of tradition. As students pack into the stands on a cold Friday night, dress up for spirit themes on Fridays, lead lighthearted Twitter wars online and document the travels of a "spirit stick," it shows how 10 years of spirit are accumulating to create the atmosphere students learn, cheer and play in today.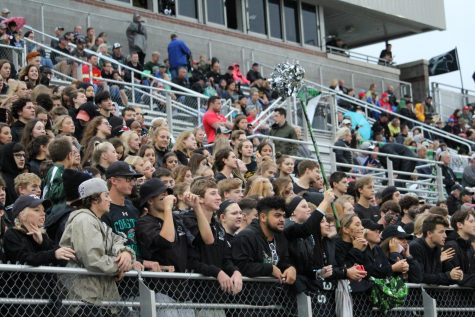 One tradition that has been a focus is the student section. For many fans participating in the theme to the cheering and intensity of the crowd, it is an experience enjoyed by many students.
"I love the atmosphere of the whole thing, from the chants to singing along with music," said junior Seth McGrew. "At the Park Hill South game, we made a tunnel for the players to walk through after the game, and it gave me such a sense of Staley pride."
Besides the student section, there is a lot more that goes on in the aspect of spirit at school. The student section plans the themes for football games, and Student Council plans the spirit weeks, bringing together the student body. The spirit week of homecoming is a tradition that students have gotten more involved in throughout the years.
"This year, we are really trying to emphasize getting everybody involved. We want to make sure freshmen are included in everything, so they can start their Staley experience off well and continue it throughout their four years," said senior Student Council vice president Alana Vawter.
A developing spirit tradition at school is the spirit stick. The stick covered in streamers and a Falcon head travels to many school sporting events. It started with 2017 alumni Isaac Esquilín. Esqillín won the spirit stick in a StuCo contest and used it to lead the student section. Now, when not being used, the spirit stick stays with Vawter.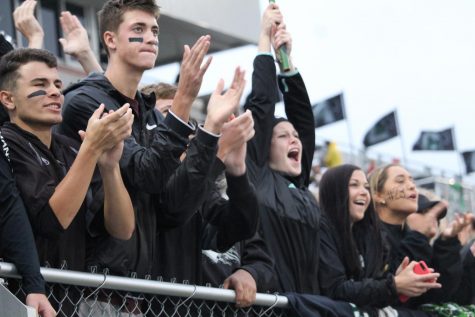 "We believe if students have a fun high-school experience, they will want to make it fun for the future Falcons too, so that it becomes a lasting legacy," said Vawter.
However, with great pride comes great responsibility. The students must remain respectful and responsible while showing pride. The school enforces the MSHSAA guidelines for sportsmanship as well as including sportsmanship guidelines in the student handbook.
"We always want to maintain our level of respect for our opponents and abide by the guidelines that MSHSAA has set. We continue to work with our student leadership on our themes and other student body requests to better our gameday experiences," said assistant principal Kevin Kooi.
Spirit leadership is working to incorporate all students in the school spirit culture. By doing this, it is the goal to create a legacy.