From One Falcon to Another
A gift from the class of 2017, the Falcon's Nest is a place for juniors and seniors to study in a quiet, comfortable place.
"It's an area that some alumni had a vision for. It's a really nice area that has a lot of possibility," said assistant principal Kevin Kooi.
In the future, Kooi said he planed on hosting morning meetings with counselors for the seniors, along with having meetings in the nest for students to learn about specific programs our school offers.

"We are getting ready to add and Apple TV up there so that it can be used for presentations," said Kooi. "Eventually, we are going to add some carpet up there too, perhaps over winter break."Graphic by Rachael Mueller
Toward the end of last school year, in the area where the Falcon's Nest currently is, an Art Gallery wall was installed, displaying student's artwork. That was in preparation for the Falcon's Nest, Kooi said.
"The class of 2017 wanted some furniture up there to allow the upperclassmen, specifically the juniors and seniors to have a place to sit before school or other times that are appropriate during the day to work on homework or to just sit and visit," said Kooi. "We clearly have the room up there."
The area fills up with students in the mornings.
"I loved the idea of the study area when I first heard of it, I think it is a nice thing to have," said senior Riley McCarthy.
Seniors began to notice the Nest the first few days of school. The furniture was arranged into a circle and the desks near the railing. Currently, it is arranged in two semi-circles back to back.
"I love the new Falcon's Nest, but I do miss it being in a circle. I feel like the circle would allow for more of a classroom discussion kind of feel," said senior Mckenzie Marley-Hines.
The Falcon's Nest is available for students before school or after school. If classes wish to come and use it, it is available during the day too. It cannot be used during Falcon time or lunch because there isn't supervision.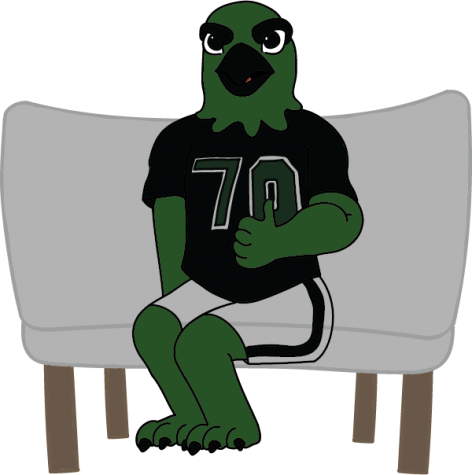 "One thing we want kids to know is there is a camera over there, so we're going to be able to see pretty clearly anything that's going on over there — good or bad. We want students to certainly take ownership of that area and be respectful of the furniture and the materials up there, because it was quite expensive," said Kooi.
It is open for Ecampus students only if they have an Advisory day with teacher Shiloh Dutton if they want to come in and use it, and it is available before and after school. The administration would prefer students to come with their class and not with a pass. There needs to be some kind of supervision to be up there, according to Kooi.
"In the mornings, we have a number of teachers and administrators walking around, so that's how we kind of get away with it in the mornings and after school. However, during class time, we can't always guarantee that someone will be over there, so we would prefer that the students over there be supervised by a staff member," said Kooi.
Kooi said he has big plans for the area.
"We just want kids to take pride in it and respect that area so that it can be beneficial for all the kids," said Kooi.