Too Many Cars, Not Enough Space
Administration Requests Parking Lot Expansion
The large lot of asphalt that student's cars call home for the seven-plus hours that students are in school is a big topic of conversation. From the high velocity of the vehicles once the bell rings at 2:30 p.m. to the very limited space, students have expressed strong opinions on the parking lot situation.
"It needs to be salted better in the winter, and it should be bigger," said sophomore Seth McGrew.
He thinks it is unsafe for cars to park on the side of the parking lot and that there needs to be an addition to the lot. McGrew's car was hit while parked in the parking lot this year.
However, there may soon be hope for better parking.
"We have made a request to Central Office, Office of Operations and Maintenance, to increase the size of the lot," said assistant principal Sharon Roberts.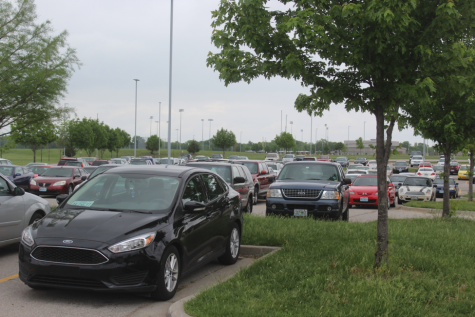 The plan is to eliminate the need to park on the sides of the lot. The school has a grass lot next to the current parking lot that could be an addition to the lot. With new space, the parking process in the morning should not change.
"There are no changes for parking procedures at this time," said Roberts.
This could also eliminate the problem of parking passes being unavailable because with more parking available, more new drivers will be able to get their parking passes.
The school's current parking situation is a concern to many students as well as the administration. However, changes to the lot are likely to happen in the future.