National Award Winning Baton Twirler
Sophomore Adds To Brigade and Diamonds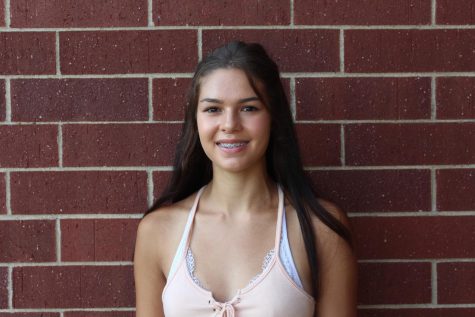 More stories from Makenzie Hooton
Down on the football field, among the band and the Diamonds, is sophomore Averi Clement. She's not there to play an instrument or toss a flag; Clement is a baton twirler– the only one in the school.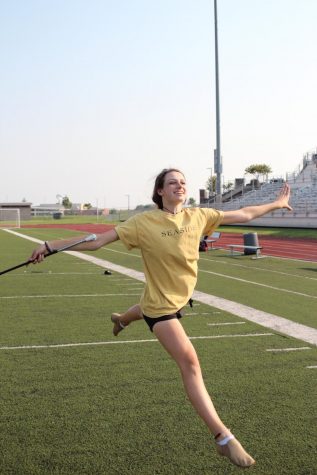 Clement said she always knew she had a knack for baton twirling even at a young age. She said when she was younger her sister got a toy for Christmas that consisted of several stick-like objects.
"I would use one of the sticks and throw it around and do tricks with it, and my mom looked It up and saw that it was an actual thing and that there was a dance studio nearby," said Clement.
From then on, Clement began practicing at Heidi's Dance Studio for four years until she had to move to Flagstaff, Arizona for her mom's work. However, she continued to practice baton there as well. During the summer of 2016, Clement moved back to Kansas City, but she was unable to use her talent at Staley.
"We had just moved back here from Flagstaff, Ariz., and there wasn't a whole lot of time to get in touch with the band director. I was also doing volleyball and wouldn't have much time to put a lot of effort into baton," said Clement.
This conflict didn't stop her. She continued to practice the rest of the year outside of school and went to compete at the America's Youth on Parade at the Notre Dame campus. Clement ended up placing second in solo baton, third in flag baton, and fourth in two batons at Nationals this summer.
Clement now performs with the Diamond and band and is on the football field every home game. Band director and coach Meara Mitchell said she is open to anyone with baton experience to participate on the team at this level and has big plans in the future for incorporating a twirler in the mix.
"A twirler will add another dimension of visual interest and artistic interpretation," said coach and band director Meara Mitchell.