Upcoming AP Art Show
Students Prepare for Annual Art Show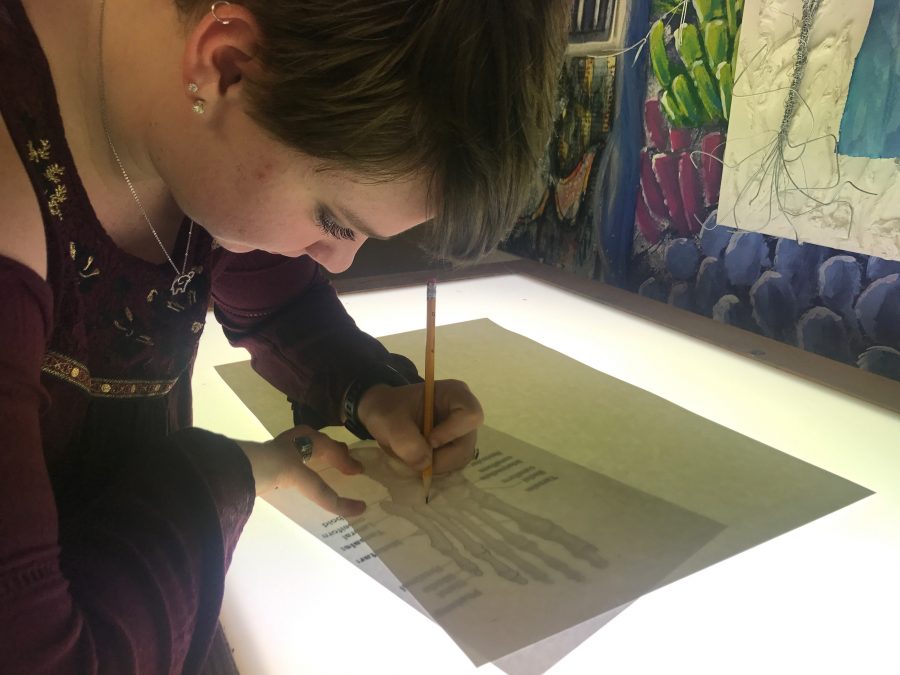 With 20 more blocks to go, AP Studio Art students are working to complete their portfolios. Among several other art classes, AP Studio Art is the college level art class.
"I would recommend it for artists that want to push themselves," senior Valerie Chandler said. "Mrs. Cox pushes us on the individual basis, and she understands everyone's work methods."
The class is comprised of 24 projects in the span of a school year. Twelve projects are concentrations, and 12 are breadths. For the breadth projects, the students put their own artistic vision into guidelines that everyone has. The concentration aspect of it is the artist's choice for 12 projects that are all connected in some way.
"It's exciting because we have drawing, painting, sculptures, photography and graphic students that are all working on the same prompt but in their medium, so the projects end up looking different but are tied together with the same theme," AP Studio Art teacher Chelle Cox said.
The students submit all of their works toward the end of the year and will receive their rating in the summer. Their work is then featured in the annual art show.
"You don't even have to go into art to be in AP. You don't even have to be good at art, you just have to have commitment to what you're doing," senior Maddie Mummert said.
Students will have the opportunity to submit their work to various art shows throughout the year. The first one this year was the Tim Murphy Art Gallery, and 19 Staley pieces were accepted.
Although the class is rigorous to some, it is an opportunity to advance as an artist. The annual art show will be held on May 11 in the flex auditorium.