Freshman Collaborates With KC Rapper Tech N9ne
Rapper Makes Music Under Stage Name Landxn Fyre
Liv Reynolds, Hailey Shores, and Rayna Wozniak
As many artists before him, freshman Landon Fryer used music to escape family problems he was going through. Fryer developed an interest in rap in elementary school and has been making music under the stage name Landxn Fyre since.
"I was doing it for money for my mom at first, and it kind of spiraled into this big thing," Fryer said.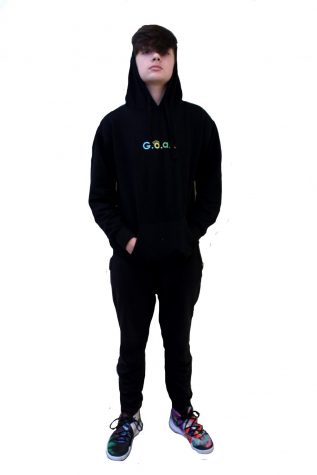 Fryer has recorded two songs and one music video with Kansas City Native rapper Tech N9ne, and it all started with his mom reaching out to a video producer named Hoodie that worked with Tech N9ne's team, resulting in them getting free tickets to his show in Colorado. The family got in contact with the video producer again after the show.
"We wrote back after the show to the video producer Hoodie who is now my manager," Fryer said. "A while later I was rapping in the car with him, and he was blown away by what I could do."
A couple days after getting in contact with the video producer, another one of Fryer's favorite artists, Futuristic, was in town for a show. As a surprise, they took Fryer to the show. Tech N9ne was also in the audience of this show.
"I was in the crowd doing his songs word for word, and the people all around me were recording me," Fryer said.
Later in the show, Futuristic called people from the audience up on to the stage. Fryer was called on to stage, and that was when Tech N9ne was first introduced to his talent.
"He brought me up, and I spit something I had written a couple weeks prior, and the whole place shut down," Fryer said.
After the show, Tech N9ne called Hoodie asking about Fryer, saying he should be at a video shoot with them according to Fryer.
"I went to the video shoot with Tech, and we talked one on one, and he gave me his phone number," Fryer said. "A couple of months later he sent me, 'Leave It on the Flo,' and it just kept going from there."
After collaborating with Tech N9ne on the song "Leave It on the Flo," they recorded another called "Dr. Sebagh." There was originally not going to be a music video, but they changed their mind and invited Fryer to the West Bottoms to film a video.
"It was my first video, and I had never really done anything like that before, so at first I was really nervous," Fryer said. "Then Tech gave me a pep talk; he was filled with so much energy and was very humble."
After the music video was edited and released, Fryer said the feedback was phenomenal.
"Growing as a person I've learned a lot more about this industry that I didn't know I was coming into and how that would affect other things," Fryer said.
The experience has taught Fryer how to multitask and balance school and his life in the industry.
As for his plans for the rest of his high school life, he said there was a lot more in store. He had been planning on going on tour with Tech N9ne, but the COVID-19 pandemic prevented that from happening.
"COVID hit me hard because
it was in this huge turning point of my life," Fryer said. "I was in the mindset that I would
be doing online school while on tour, and I still think that's the direction I'm heading."
Fryer was taking advantage of the new classes and planned to use what he learned in his video marketing class to put himself out there. He planned on releasing his debut album within the next few years.
Fryer's manager Ryan Hood, who he calls Hoodie, had high hopes for Fryer's future as well.
"I see Landon doing anything he wants to do and being successful at it," said Hood.
View this post on Instagram