Never Fully Dressed Without Style
TikTok Inspires Students To Make Unique Earrings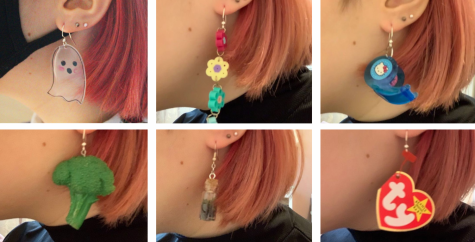 After seeing the trend on TikTok, sophomores Moorehead and Nadine Osborne started making their own earrings out of little things like thumb tacks or tiny toy dinosaurs.
Moorehead started to make them because she thought they would be a stylish touch to her everyday look.
"I thought they would be a cool accessory to go with my outfits," said Moorehead.
Osborne wanted to make earrings for her friend and started to make them for herself as well.
"I had to get supplies for my friend's birthday party and decided to make them for myself," said Osborne.
Some of Moorehead's favorite pairs include safety pins, tiny flower pots and little swords. Dollar Store and thrift stores are popular places to find objects for earrings.
"Most of the time I find something at the Dollar Store that is small enough to fit on my ear," said Moorehead.
Moorhead and Osborne don't sell the earrings, but there are many who sell these type of earrings on eBay.
"With all the time people had during quarantine, they saw ways to make money off of it," said Osborne.
Popular with TikTok users are baby figurines, clothes pins and paperclips.
"I've made a few earrings I saw on TikTok that I thought were cool," said Moorehead.
Moorehead and Osborne explained the process of making the earrings as getting jump rings, hook rings and drilling whatever object they want on it.
"There's so many different ways you can make them, and you can either do it in a really complicated way or a simple way, and it's cool to see the variety of how people are creative with it," said Osborne.
Supplies for making the earrings can be found at craft stores like Hobby Lobby and JoAnn's.
"It's an easy hobby that almost anyone can do because you can find things all over the place to make earrings out of," said Moorehead.