New Bakery Opens In Northland
Joëlle's Baked With Love Brings Lessons From Mauritius
11119 North Oak Trafficway, Kansas City, Mo., 64155
For those looking for a new place to satisfy sweet and salty cravings, Joëlle's Baked With Love is bringing lessons learned from Mauritius to a recently-opened bakery on North Oak.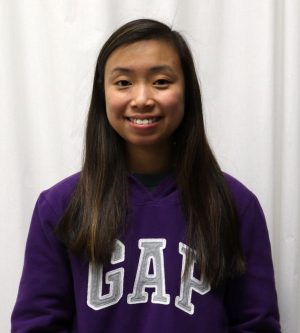 Joëlle's offers a wide variety of options including cupcakes, scones, puff pastries, quiche, burritos, biscuits and gravy, cannolis and more.
With a menu offering 50 gourmet flavors of scones, it's the perfect place to go for something sweet or savory.
This adorable bakery was opened Sept. 1 by Joëlle Six, who moved to Kansas City in 2018 from a small island called Mauritius near Madagascar. She said her grandmother taught her how to bake, and that was when she discovered her passion. It was her childhood dream to open her own bakery, and with the help of friends and family, she was able to do so.
Creamy Chicken and Cheese Puff Pastry: $5.95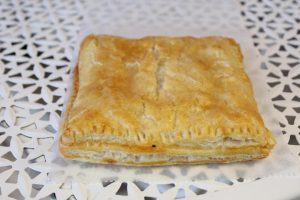 The Creamy Chicken and Cheese Puff Pastry was my favorite of all the items I tried. The buttery, flaky crust on the outside paired well with the creamy chicken and cheese on the inside. It's full of chicken and is easily a meal by itself; I recommend giving it a try.
Pineapple Extreme Cupcake: $3.75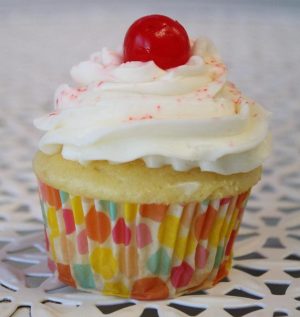 The Pineapple Extreme Cupcake is a pineapple mini cake with pineapple filling, topped with cream cheese frosting. The cake was moist and had the perfect amount of pineapple filling and frosting in every bite. It was the right amount of sweet but not overpowering. If you love pineapple, this is a must-try.
White Chocolate Raspberry Scone: $4.50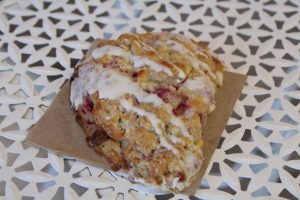 The White Chocolate Raspberry Scone is filled with fresh raspberries and features a delicious white chocolate drizzle on top. This isn't a typical scone; it has a crispy layer on the outside with a soft, moist inside. The mixture of the creamy white chocolate and tartness of the raspberries gives it a unique flavor. While it's one of their most popular flavors, I'm not a raspberry fan.
Leave a Comment