Girls Golf Sends Two To State
Castro Places At State For The Fourth Time
October 14, 2022
After four-time state qualifier senior Jaylee Castro and junior Madison Zubeck competed Oct. 3 in the suburban conference championships, Castro became the back-to-back district champion – breaking her previous score of 76 with a 74, just 2 over par.
Zubeck ended her round with an 83, placing third overall in districts at Paradise Pointe Golf Complex. Both earned themselves a trip to the 2022-2023 state match Oct. 10 and 11. Punching their ticket didn't come easy, but Castro led by example this season, and Zubeck took full advantage of it.
"She would come to practice, and after practice hit range balls, then go work on her short game or whatever was lacking at the time," coach Richard Tingler said of Castro. "She finally put everything together at districts, which was pretty amazing. She shot a personal best, and it was really fun to see that happen."
Zubeck and Castro dealt with inclement weather during the state cup, as day two started off with a frost delay. There was a low of 28 degrees at tee time and a high for the day of 45 degrees. This made the 6,061 yard course more difficult for the golfers. Despite the issues Castro encountered, she was proud of the effort she displayed.
"While I would've liked to end my senior year on a good note, the conditions and the course itself was set up hard," Castro said. "While it frustrates me, I can confidently say I put everything I had out there."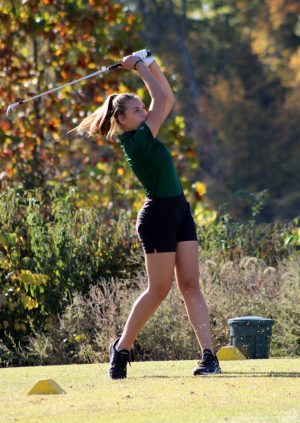 Castro shot an 80 the first day and a 79 the next, for a combined score of 159. Par for this year's state course was 72, meaning Castro ended the affair shooting 15 over par. She ended the competition with an 8th place finish. Although she hoped to place higher, Castro reached the goals she set as a freshman, following a finish in 20th place at state during the 2019-2020 school year.
"It was really cool to be the first girl golfer to make it all four years," Castro said. "After my freshman year, I set a big expectation for myself to not stop and only keep getting better the next three years."
Zubeck ended with a 102 on the first day and 99 the second. While Zubeck's's first state appearance was not what she wanted, Zubeck said she wasn't deterred by it.
"I feel like I could do better," Zubeck said. "I'm definitely excited for my senior season and improving more than I already have."
Although not a storybook ending, both Castro and Zubeck were proud they made it that far and were able to represent their school and their team.