Full House
Living With 10 In One House Has Ups, Downs
In the average American household, there are 2.6 members living in one home at a time, but for 16-year-old Maer Deng, this is not the case. Maer was born and raised in Kansas City, Missouri. He's now a sophomore in high school, a varsity football player and wrestler. But when the day is over, Maer goes home to his family of 10.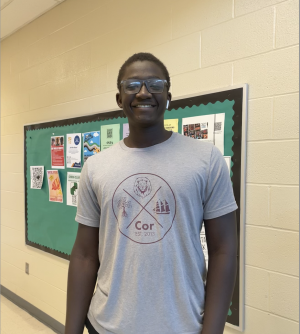 Three years after his mom and dad moved to the United States from South Sudan, Africa, they had Maer's oldest brother, Yorwin. Yorwin is a junior in high school, and Maer's ride to school each day. He also runs track and plays football with his brother. He is the oldest of his six siblings, and Maer said the closest to him.
"Me and Yorwin are the closest out of all my siblings," Maer said. "For sure. Most the things I do, I do with him – like everything every day, to be honest. We used to fight a lot. 100%. But then I got bigger than him. Before that though, he used to beat me up bad, but now it's neutral ground. We don't tend to fight as much as we used to."
Now that the two have grown out of their fighting stages, they do nearly everything together, whether they are out with friends or practicing football. Yorwin is just one of the 10 members in the Deng household. Living with ten family members can be crazy and chaotic sometimes, but aside from the few struggles, Maer said he wouldn't have it any other way.
"Three brothers, four sisters, so a family of nine," Maer said. "And our grandma lives with us too, so 10. It's absolutely horrible. I mean it's entertaining, but crazy. I wouldn't have it any other way. I can't get everything I want because there is a majority of people they have to buy things for, so that's one struggle."
He said it's difficult to find time alone.
"It's always loud," Maer said. "There's always somebody at every corner. There's never a moment where you're just by yourself."
Although there are a few struggles, Maer still appreciates and enjoys his family. Maer said he tries to always follow his parents' example. He said his dad is a constant reminder for Maer to be committed to the things he does, including football and wrestling and not doing anything halfway.
"You've got to commit," Maer said. "And that's something that has definitely stuck with me. That and hard work. My dad has inspired that and a lot of things."
His mom has molded Maer into the kind, lighthearted person he is today.
"My mom means a lot to me," Maer said. "She's a really nice person – a really good person. She has welcoming hands for everybody, no matter who you are. And I try to display my kindness like she does."
Staley News intends for this area to be used to foster healthy, thought-provoking discussion. Comments are expected to adhere to our standards and to be respectful and constructive. As such, we do not permit the use of profanity, foul language, personal attacks, or the use of language that might be interpreted as libelous. Comments are reviewed and must be approved by a moderator to ensure that they meet these standards. Staley News does not allow anonymous comments, and Staley News requires a valid email address. The email address will not be displayed but will be used to confirm your comments.