Around The World
Lunch Manager Spends Life Exploring Around The World
Some people spend their entire lives living in the same place and never getting the opportunity to travel and explore the world, however cafeteria manager Lisa Ruedisueli has traveled and moved to multiple places in her life. Ruedisueli is from Warren, Michigan, just outside of Detroit, but she moved a few times when she was young, which she said helped her be an open person.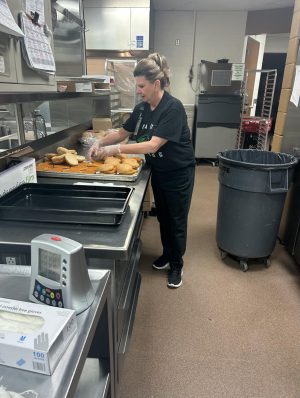 "Having to move schools at a young age and always trying to make new friends probably affected who I am today the most because it helped me be more open minded and better at meeting new people," Ruedisueli said.
Out of all of the places Ruedisueli traveled to, she said Germany probably has to be her favorite and the most memorable. She said she has been to Germany more than 10 times throughout her life.
"My mother is from Germany, and I have been there quite a bit myself," Ruedisueli said. "So, it is nice to see where my mom grew up and see where she used to run around as a little girl."
In Denver, Ruedisueli met her husband of almost 30 years, and shortly after their wedding they moved to Kansas City together so she could find a career, and they have lived there ever since. Ruedisueli believes moving to Kansas City was the right choice, and Kansas City has given her a lot of good career opportunities.
"I really like Kansas City; the cost of living is a lot more inexpensive than Denver, and my husband moved with me, so that's all the better," Ruedisueli said.
Ruedisueli said she has been successful at almost every job she has had, including her current position as manager of the school cafeteria.
"Almost every job that I have taken, I'm proud to say that I've worked my way up to either supervisor, manager, salesperson of the year or something along those lines," Ruedisueli said.
She said her outlook is bright, which helps her in her career.
"I am a pretty happy person," Ruedisueli said. "I don't look at them as struggles, I look at them as challenges, and right now, work is probably my biggest challenge just because we are short staffed, and I try to make my employees happy when they come to work."
She said she believes in thinking through the best solutions to problems and keeping her team happy and motivated to make work better.
"I'm fortunate to work with a bunch of great ladies," Ruedisueli said. `
After Reudisueli retires, she said she and her husband would be leaving Kansas City behind and moving one last time.
"I would love to move back to Denver, but unfortunately I'm going to retire here then move to Florida," Ruedisueli said.
Although she will leave Kansas City behind, she said it would always have a place in her heart.
"I've had a good life living in Kansas City, and I am very grateful for the career opportunities that living here has given me," Ruedisueli said.
Staley News intends for this area to be used to foster healthy, thought-provoking discussion. Comments are expected to adhere to our standards and to be respectful and constructive. As such, we do not permit the use of profanity, foul language, personal attacks, or the use of language that might be interpreted as libelous. Comments are reviewed and must be approved by a moderator to ensure that they meet these standards. Staley News does not allow anonymous comments, and Staley News requires a valid email address. The email address will not be displayed but will be used to confirm your comments.