Facing A Challenge
Injury Doesn't Hold Soccer Player Back
There are things that can hold an athlete back from achieving their dreams, and one of these things is injuries. Some injuries are minor, while others can end a dream.
Senior soccer player Preston Assee is one of the athletes who suffered from a sports-related injury.
"I tore my ACL and MCL in my right knee, and I had this thing called OCD (osteochondritis dissecans) where the two tips of your bone, the knuckles, die off," Assee said.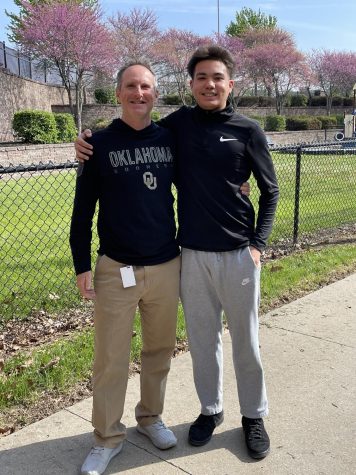 Assee played soccer basically his whole life, since he was 3 or 4 years old. So, when he got injured, it took a toll on his life.
"I had to just sit out and rest my knee," Assee said.
Some sports injuries are easier to recover from than others.
"I tore my ACL, which is like a year recovery on its own, and then my MCL and the osteochondritis dissecans, so it took some time," Assee said.
Assee was 12 years old when he got injured so, during his three-year -long recovery, he spent his spare time playing video games.
"I was young, so there wasn't much I could do," Assee said.
Assee's dad, who he said he admires, also played soccer and helped Assee during that time.
"He tried to keep me in shape, so we would work out in the mornings and at night," Assee said.
After three years, Assee was able to get back to playing soccer for his freshman year of high school.
"My freshman year was a lot of fun," Assee said. "We won districts that year."
Despite being out of soccer for three years, Assee excelled in his first year of high school soccer.
"I played JV, and I played varsity my freshman year," Assee said.
Head soccer coach Johnny Chain has coached Assee since his freshman year, and has seen Assee's potential from the very start.
"We see these young guys come in a lot," Chain said. "We can identify if they are going to be helpful to us in a few years. Can they grow into a varsity player? And he certainly had the potential as a young player."
As far as Assee's injury goes, it didn't seem to hold him back in any way, Chain said.
"Injury unfortunately is just part of what we do in every sport," Chain said.
After being injured, Preston's future plans with soccer changed.
"Growing up, I wanted to be a professional soccer player," Assee said. "But that changed after I got injured."
Instead of continuing to chase his dream of becoming a professional soccer player, he decided it would be better for him to pursue a career in construction management. But, despite not wanting to make soccer a career, he still wanted to play.
"I plan to play soccer in college, but it just depends on if I get a good enough scholarship and to the school I want," Assee said.
Staley News intends for this area to be used to foster healthy, thought-provoking discussion. Comments are expected to adhere to our standards and to be respectful and constructive. As such, we do not permit the use of profanity, foul language, personal attacks, or the use of language that might be interpreted as libelous. Comments are reviewed and must be approved by a moderator to ensure that they meet these standards. Staley News does not allow anonymous comments, and Staley News requires a valid email address. The email address will not be displayed but will be used to confirm your comments.