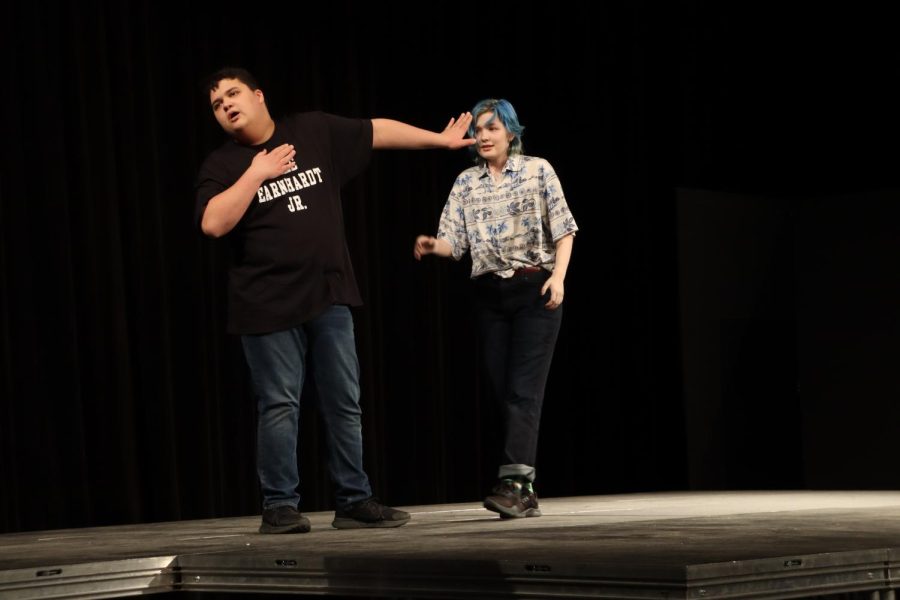 One Acts: It's A Full House
Performances Directed By Students
Five Theater IV students directed individual plays that they chose or wrote themselves, and they cast and directed their entire plays, known as One Acts. Unlike the fall or spring plays, they performed their plays for one night only.
The directors held a one-day audition to cast their productions and had a group discussion afterward on who would be in each production. The day after, they jumped right into rehearsals and took three weeks to rehearse every day after school until opening night March 8 in the flex auditorium.
The directors were happy with the turnout and the full house that was in attendance to watch their plays. They even had to pull out extra seats for audience members as the room filled.
"The Worst Play You'll Ever Watch"
Director: Jay Schmidtlein, 12
During the One Acts performance, sophomore Blake Pfannes (Character A) and sophomore Aether Schneider (Character B) rock out to their recorder duet March 8. Student director senior Jay Schmidtlein was one of the directors who wrote their own play and said one of the biggest reasons for writing his own play was it was easier to direct something he had written himself so he would know how he would want the play to be. He wrote his play out to be a comedy with no deep meaning behind it and said that writing was the most enjoyable part of it all. "It's OK to just write things for fun. Not everything you create has to be a masterpiece," Schmidtlein said. "If you enjoyed it, then it's a good piece of work."// Photos by Cassie Ford
"The Charm Of The British Sun"
Director: Connor Sun , 12
During "The Charm Of The British" performance, senior Claire Swiss (Kate Snefferfield) and Lane Adamson (Rob Snefferfield) argue over their living room layout and marriage status March 8. Student director senior Connor Sun said his favorite part was when the actors kept pushing the couch around, and he hoped it was enjoyable to watch. "I thought my play was funny," Sun said. "There was some room to work with it and add to it."// Photos by Cassie Ford
"Curse Of The Wolf Man"
Director: Gavin Miles, 12
Performing during the "Curse Of The Wolf Man," sophomore Mitts Atkinson (Bela), junior Voss Beecher (Lon Jr.), senior Seth Guyer (Claude), senior Emma Williams (Maria) and senior Lily Rayl (Evelyn) present the dinner scene. Student director senior Gavin Miles chose this play because it related to him personally. "My favorite part was the character development, and I really enjoy horror movies, and the aesthetic really spoke to me," Miles said.// Photos by Cassie Ford
"Tricked"
Director: Avalon Vallejo, 12
In the middle of their one-act dance routine, freshman Aly-Marie Montes (Dolly) and sophomore Em White (Ozzy) carry sophomore Skip McMahon (Freddie) on their shoulders parading them around the stage showing sophomore Gage Huth (Bowie) the new moves they had learned March 8. Student Director senior Avalon Vallejo said because he had a deadline for the script, he freestyle and wrote what came to mind. His play included choreography that the cast got to work on. Vallejo said his play had a teachable moment. "It was a lesson on peer pressure and not giving in to what other people want because they will have consequences," Vallejo said.// Photos by Cassie Ford
"Small World"
Director: Mathew Webb
During the "Small World" performance, sophomore Asher Favre (Bob), junior Hamza Abu (Bill), junior Isabella Kiewel (Grandma), senior Bella Dorrington (Lucy) and senior Katie Holloway (Stacy) perform a scene. Senior student director Mathew Webb explained the play being like how real life can happen. "It's a small world, you know, you meet people, and you'll meet people you don't really get along with or like, just be open to new experiences in the world," Web said.// Photos by Cassie Ford