The Journey Of A Journalist
Award-Winning Broadcast Student Gets Professional Experiences
Whether it's his award-winning basketball documentaries or his coverage of the Super Bowl Parade being posted and shared on Patrick Mahomes' Instagram, STTV senior Mason Baugh's work is familiar to the student body.
As part of a Northland CAPS internship, Baugh covered the Kansas City Chiefs' Super Bowl parade and the rally at Union Station Feb. 15.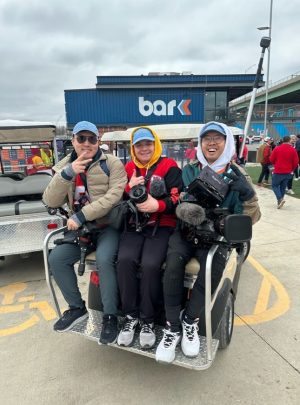 "It was a surreal experience," Baugh said. "It felt good to be there and a part of the team."
Baugh was stationed near the end of the parade to shoot photos. His favorite experience from the parade was getting to follow the players, specifically punter Tommy Townsend.
"He was smashing beers and talking to fans," Baugh said.
Northland CAPS allows students to have opportunities with job shadows and internships within the community. Baugh's internship was with iFly.
"It's helped me understand everything that goes on outside of video production," Baugh said, "like the logistics of talking to the client."
With his interest in videography, Baugh had plans to direct a sports documentary of his own.
"I want to be a big director on a set coordinating for Netflix," Baugh said. "I would want it to be about athletes that are underrepresented."
In his free time, Baugh watches sports, such as basketball and baseball and sports documentaries like "Last Chance U" streaming on Netflix. Baugh has award-winning documentaries of his own from "Gentle Giant" to "The Hunt for State."
"It really helped me with interview questions," Baugh said. "I was able to get a lot out of them, a lot of emotion."
Winning best of show at state on his documentary "Gentle Giant," Baugh continued to build his credibility toward his future broadcasting career. "Gentle Giant" shed emotional light on senior Tyler Shanks and his family's traumatic experience.
"I'd always had the idea of making a video about Tyler," Baugh said "He had lost his father freshman year and went on to play football."
Baugh said he is always on the search for inspiration. Finding inspiration in almost anything, Baugh shares and communicates these ideas in the group he co-founded, "Groovy Productions."
"The stuff I watch and consume are the things I want to put out," Baugh said.
Groovy Productions is a student-led videography and film crew. Baugh, being one of the cofounders and active members, pushes for new content and shares his creative ideas. Baugh does have his own struggles aside from his videography. Time management was one of Baugh's biggest struggles as a high school senior.
"I feel like I have a lot of things going on and never have time for any of them," Baugh said. "I have to prioritize certain things."
Despite involvement in various activities and accomplishment in them, Baugh has general responsibilities of a high school student.
"I feel like I'm always catching up on having to do things," Baugh said. "Especially with school, like I'm late for things."
Baugh continued to work toward his broadcasting career. With awards in his pocket, Baugh hoped to pursue broadcasting at the University of Missouri, majoring in Film Production.
Check out Baugh's work on YouTube:
Staley News intends for this area to be used to foster healthy, thought-provoking discussion. Comments are expected to adhere to our standards and to be respectful and constructive. As such, we do not permit the use of profanity, foul language, personal attacks, or the use of language that might be interpreted as libelous. Comments are reviewed and must be approved by a moderator to ensure that they meet these standards. Staley News does not allow anonymous comments, and Staley News requires a valid email address. The email address will not be displayed but will be used to confirm your comments.