Air-Born
Family Bonds Through Extreme Sport
School clubs, groups, and activities are all in junior Alana Romey's schedule, but she also skydives – sort of. For about a year now, she's been indoor skydiving at iFLY with her father and younger sister.
Romey's father takes her and her younger sister Kaylin skydiving because he was a professional skydiver and wants to share the activity with his daughters.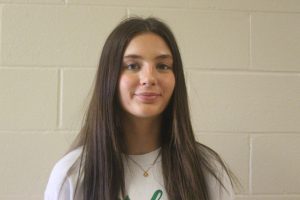 "My sister and I both do sports that he's never played, and he supports us," Romey said. "I think it just gives him something to connect with us with, something he can coach us in and that we all have a mutual understanding of."
Indoor skydiving helps Romey connect with her family, but it also helps her come out of her shell and connect with other people. She said it's helped her get comfortable meeting and talking to new people and learning from someone she didn't know.
"Socializing with people," Romey said, "It's helped me with that because you're in a room with a whole bunch of people you've never met before, instructors you've never met before, you know, just learning how to take coaching from people, especially those you don't have a connection with already. I think it's just helped adapt to new settings."
One time, when Romey was skydiving she accidentally flew into a wall. She said it was so embarrassing, but she just had to brush it off. Her father used to skydive and shared stories.
"One time he landed in a swamp," Romey said. "It took him 15 minutes to get out, but it was also alligator infested. He said he never looked back. He said he left his parachute and bag in the water and just walked out."
Ifly has six different levels to their program. People start with white wings and progress through yellow, blue, green, purple and red wings. Romey and her younger sister Kaylin have recently graduated to their intermediate level. She is eager to be able to learn more challenging maneuvers.
"I'm going to be able to start do more advanced things, back-flying, and doing flip-type things," Romey said. "I'm just excited."
Romey, at 16, has been indoor skydiving for a little more than a year now, and she doesn't plan to stop for a while. She plans to continue this well after she moves out and graduates high school. Romey said she can't wait to get out there and do more than just skydive indoors.
"I think I'll probably advance to dropping out of an airplane when I'm 18," Romey said. "I think it's fun, but it takes patience because you're not going to be able to go in there and just do it yourself."
Staley News intends for this area to be used to foster healthy, thought-provoking discussion. Comments are expected to adhere to our standards and to be respectful and constructive. As such, we do not permit the use of profanity, foul language, personal attacks, or the use of language that might be interpreted as libelous. Comments are reviewed and must be approved by a moderator to ensure that they meet these standards. Staley News does not allow anonymous comments, and Staley News requires a valid email address. The email address will not be displayed but will be used to confirm your comments.