Local Cinema Provides Unique Movie Experience
Screenland Armour Theater Adapts To New Normal
February 21, 2022
One of the hardest hit industries during the COVID-19 pandemic was the Hollywood film industry and ultimately movie theaters. While most movie theaters remained closed, the Screenland Armour Theater in North Kansas City, Mo., reopened earlier than other theaters in the pandemic, mid-June 2020, due to the owners' willingness to adapt to new regulations.
"I was working with NATO (National Association of Theater Owners) on developing procedures to safely reopen," co-owner Adam Roberts said. "We were on the front lines of that."
Since Hollywood shut down, movies stopped coming out as rapidly until around June 2021. Consequently, the theater's business became very slow but has steadily increased due to more movie releases in mid-2021.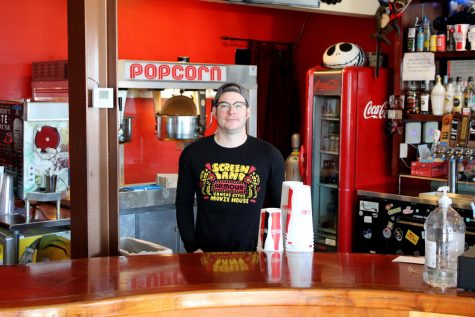 "I think generally everyone started feeling good in the summer, and that kept going until the first of this year," Roberts said. "It's just kind of weird because release dates are strange, and everything is also on demand. And of course right now we're at the third peak of the pandemic."
However, with more big-budget Hollywood movies coming out like "Scream," "Jackass Forever" and "Death on the Nile," Roberts expected the theater business to find solid footing despite the challenges.
"We're still in that weird transition," Roberts said. "Hollywood is still trying to figure out how things are going with movies and how to release movies in a pandemic."
The Screenland Armour opened in May 2008 and was taken over by Roberts and his brother-in-law in August 2012. Originally, the theater only had one screen until the previous owner added a second one. Now it has four screens, two larger theaters and two smaller theaters. The theater itself was built in 1928 and was one of the original movie theaters in all of Kansas City. The theater was established, but missing something.
"The problem in 2008 to 2012 was that I came here and liked it, but it just didn't have the vibe," Roberts said. "It didn't have the atmosphere; it didn't have the passion."
Once the theater was under Roberts' and his brother-in-law's management, they did some renovations. They added more stylistic artwork, rebranded and figured out what movies they would show and what events they would host. The theater turned from an additional income stream for the previous owner to a passion project for Roberts.
"I love movies," Roberts said. "I watched 305 movies last year. I watch a ton of movies, and I have since I was 10. My love for movies has always been there. It made sense, so we rolled the dice and borrowed a tiny bit of money."
Ten years later, the theater has seemingly found that missing "vibe," and Roberts feels they are just now comfortable as a business. The theater has a lot of quirks that make it unique compared to chains like AMC and B&B. Screenland Armour has a hand-selected showing of movies, from current big titles and foreign films to independent films or classics.
Additionally, they host a variety of events, like movie roasts, where they show infamous movies or cult classic movies and have comedians there making fun of these movies. Inside the theater there is a bar and a kitchen that offers pizza and grilled cheese sandwiches as well as popcorn and other classic movie snacks.
"I think the style of our program, of how we run a theater, is more probable to how young people like theaters," Roberts said. "We're more of an experience. When you go to an AMC, it just feels like a Walmart."
Screenland Armour Theater is located at 408 Armour Road, North Kansas City, Mo., 64116.