'The People Make Staley Great'
Anderson Reflects on 10 Years
In August of 2008, Staley High School opened its doors for the first time. There were dignitaries, men in parachutes jumping out of a plane and fanfare. This was all done to celebrate the new multi-million dollar school in the North Kansas City School District. This new school would have the newest and best in everything: technology, furniture, stadiums, auditorium, and it was built to be a green school. This was going to be the new shining star in the Northland, or, as one teacher affectionately calls it, "the land of milk and honey."
Since its opening, everything has been pretty good at Staley. There have been several state titles, countless 1's at state competitions in the fine arts department, oodles of awards and academic success that is second to none. The school board and the community should be proud of Staley.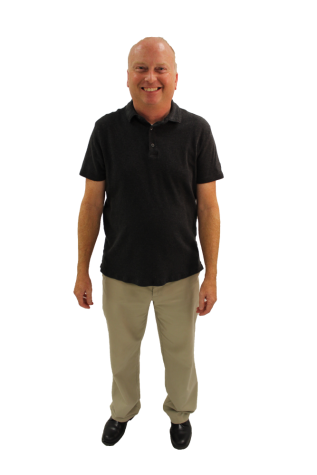 However, none of that really encapsulates what the real story of Staley is, and that is the people. In the entrance to the school, it says, "Through these doors walk the finest people in the world." Many laughed at that when it was painted on the wall. However, after 10 years, nothing about this school is more true than that statement. It is the people that have made Staley High School one of the best high schools in America.
It all starts with behind the scenes staff members (administrators, custodians, the lunch servers, administrative assistants, etc.) who all deeply care about this place. Staley is one of the most well maintaine and well run schools, and the pride to keep it looking great is incredible. After 10 years, it still looks brand new. Furthermore, these same people support the students when they want to decorate or try something new. They serve their students with a smile and a happy attitude every day. Many schools do not have that same kind of support. Staley is lucky to have them.
On the front lines, are the teachers. Many teachers at Staley have come and gone, but along the way they have shaped a generation of young people. They have used their tools to build great minds but more importantly free thinkers. These same teachers have given their heart and soul to their students through sacrificing time for them, counseling them through rough times and making all students feel special. I feel honored to be part of such an amazing staff.
However, the most important group at Staley has been the students. Although in the beginning, they had some reservations about coming to a new school, they have embraced it over time. Their academic success continues to improve with each class, and their love and passion for their school continues to grow. Furthermore, when one student hurts, they have rallied around them through fund raisers and public awareness drives, and they even have grown food for others. I would put the heart of these students up against any student body in the land. The students at Staley have a choice every day: to make it a great day or not. And at Staley, it is a great day – every day.
So, as we celebrate 10 years at Staley High School, let's remember that it is NOT about the building. It is NOT about the stadiums. It is not about the state titles. It is NOT about any of that. It was, it is and always will be about the great people inside this building. As the numerous Tweets from alumni have said after state titles, great musicals, the hiring of alumni to return and teach at Staley, and sadly even the deaths of classmates, etc. "Once a Falcon – Always a Falcon!!"
Scott Anderson
Social Studies Teacher
Staley Original