Equity In The District
Current Events Affect Education Tactics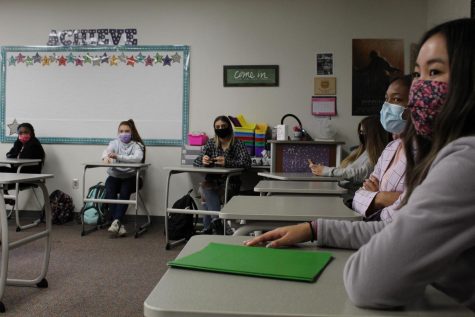 The topics of systematic racism, racial diversity, social justice and discrimination are in the news, on social media and in conversations. They are also concerns the school district is addressing. North Kansas City School District superintendent Dan Clemens, Ed.D., said he and his team brought their plans regarding equity in the district to be acknowledged and discussed with the board of education to help students during this time and address current racial issues.
"My participation is to ensure that we're treating kids well. I think a thing
that we can take credit for is introducing the policy
on equity and having them adopted," said Clemens. "It's making sure that it's in our strategic plan that we are going to continue to work on these areas. We have also increased the number of diversity councils we have within our schools and as districtwide councils."
Sophomore Lucas VanKeirsbilck, who is a part of the school and district's diversity councils said that they really give students
a voice to talk about important topics.
"We get to come and be more than just a student, we get to be treated like adults by adults," said VanKeirsbilck. "I think at times so many teachers and adults assume that racism is such a big and important topic that students can't handle it and that we don't have a very educated opinion, but that's just not true. We do, and we all have our opinions, and they're very worth sharing." Principal Larry Smith,
     Ed.D., said reports of discrimination or harassment incidents are not a common occurrence, and they're not something that the school tolerates, and receiving any word about students having a negative experience at school is something very concerning to him.
He said it's been an important goal of his to make sure every student has a positive experience.
"It's my goal to work with our entire Staley community: students, teachers, community members, parents, etc., to ensure that we have a very welcoming and inclusive environment," said Smith. "I want my students to know how important this topic is to me and that Staley is a great place for all students."
Sophomore Kirah Frieson said she has never had a negative encounter regarding her ethnicity at Staley and that the school makes everyone feel included and like they belong.
"I feel like Staley has a real equal environment where everybody's treated the same," said Frieson. "In my experience, I would say that Staley does a really good job of making it so every student, no matter the race, feels welcome in the school and feels represented."
Clemens said after reviewing social media posts from Staley alumni about experiencing racial injustice, he felt disappointed that students in the district would treat each other that way, but
it also brought light to the fact of how important the topic of race is to address so the same kind of behavior doesn't occur again. that attend our school district, and my job is to make sure that 21,000 kids have a good experience with North Kansas City schools and to ensure that all kids feel welcome here and can excel," said Clemens.
     On the first days of this school year, Smith said his beginning of the year welcome back message over the announcements and also read the district's equity statement.
"I wanted to make sure that they knew Staley High School was a safe place
for all students and is a place where we're all one to be Falcons, and we're
all going to be accepting of each other," said Smith. "I wanted our students to know that will continue, and that here, regardless of what's happening outside the rest of the world, I want this to be a place where everyone feels like they belong."
Clemens said he and other district administration helped build the idea of the equity statement and also put in place equity policies and processes involving any incidents regarding the topics of racial harassment or discrimination.
"I don't know why we never had an equity policy, but it was something that the board and I feel strongly needed to be in place," said Clemens. "North Kansas City, you talk about being champions for all students, and it's very hard to have a tagline that says you're champions for all the students but don't have an inclusion policy to make sure all students are welcome within our school district."