Aesthetic iPhone 101
New IOS 14 Update Leads To Customization
    Apple's newest system update for iPhone, iOS 14, was released Sept. 16. With the update, Apple added a new part of the home screen called widget. Widgets help provide various information without having to open up an app, such as battery level for your phone and connected Bluetooth devices, calendar, clock or weather. People found a way to make their screen have a certain aesthetic using a free third-party app for widgets called Widgetsmith and using the Shortcuts app to change the way app icons looked. The trend grew rapidly due to videosharing app TikTok. Now, teens throughout the country are making their own versions.
Jackson Phelps,10
Sophomore Jackson Phelps based his off of his favorite college football teams.
"I've always loved college football, ever since I was a little kid," said Phelps. "Ever since this new iOS 14 came out,
I was like, 'Man, I can really spice this thing up.'"
Phelps took his three favorite teams, the Missouri Tigers, Oklahoma Sooners and Air Force Academy Falcons and matched app icons with the teams' main colors.
"I was trying to match the app icons to the team colors," said Phelps.
"So like, Mizzou I did yellow, Oklahoma I did red and the Air Force Academy I did blue. I was trying to match the icons with the sports team, so it didn't look too crazy, and it looked overall clean."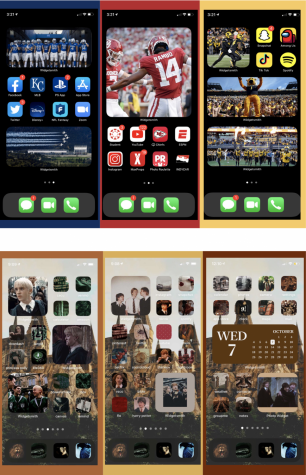 Alex Secaida,11
union Alex Secaida made her home s
creen based off of the "Harry Potter" book and novel series.
"I've just always liked Harry Potter, ever since I was little," said Secaida.
"It started getting really popular on TikTok, and I saw a lot of home screens about Harry Potter, so I just decided to make one myself."
Secaida decided to make each individual home screen relate to something different about Harry Potter.
"The first one is just overall the Hogwarts school theme. The second one is a Gryffindor theme, and the third one is a Slytherin theme."